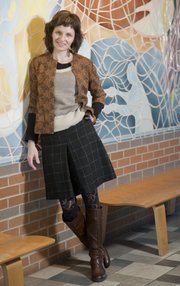 Dr. Juliet Nelson, a psychologist employed by Bert Nash Community Mental Health Center, and I had originally planned to meet at La Prima Tazza downtown to chat about style over warm drinks, but when we showed up, the local coffee hot spot was packed.
Nelson immediately offered a solution: "I have a friend who I'm meeting at 715 (715 Mass.). Want to go there?"
So we tromped across the street, and I, with my notebook, joined Nelson and her friend, Sharon Zehr, a social worker at Bert Nash, for appetizers and wine.
While this improvised "interview" with Nelson and Zehr was occasionally halted by an interlude of compliments between the two friends ("No, YOU have great style!" "Oh, please, no I do not." "Yes, you do. You're just shy"), the honesty that came with sitting around a restaurant table with friends who have known each other for 18 years couldn't have been scripted more perfectly.
Nelson's work at Bert Nash consists mainly of working with clients at risk for suicide, and her funky sense of style fuses neatly into her more somber, everyday work. Beyond finding bags of clothes left on her office door handle by coworkers nearly every day, she always puts a personal touch on her meetings with clients.
"When I get dressed in the morning, I think about certain clients and try to pick outfits that I think will entertain them. I work with people who are very suicidal, and clothes are light and fun. It's a nice break," Nelson said.
Zehr chimed in, "Julie's the only professional who can wear fishnet hose to work, and it's fine. If anyone else did, it wouldn't work, but that's just Julie."
Nelson quickly responded, "My motto is, 'I'll wear anything once.' Clothes entertain me."
About midway through our conversation, another friend, Amy Girard, joined the group. After Girard sat down, the conversation quickly turned from a discussion about style to a conversation about kids and body image.
While the three women agree that body image is still a big issue in society today and that media does nothing to encourage women to be happy with their bodies, they do agree that there is hope for women and their body images.
"My daughter is curvaceous, and she really loves her body. She's actually been a real inspiration to me," Girard, the most recent addition our party, said as she waved her hands in the air, miming the silhouette of a voluptuous woman.
Girard names "being photographed for Facebook so often" as the reason her daughter is so comfortable with her body, but Nelson offers an alternative (or perhaps additional) reason some women have positive body images despite media's typical negative influence. The simple truth suggested by Nelson is that media is not the strongest influence in young women's lives.
"The strongest influence comes from family and peers. I always tell parents, 'The message starts at home.' Are the parents doing enough, encouraging their kids enough, building their kids up enough? That's what makes the difference."
More like this story on Lawrence.com