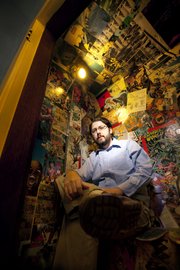 Jai Nitz's desk contains objects sacred to comic book lovers: a statue of Jack Kirby, an Aztek action figure and a copy of Wally Wood's 22 Panels — a strip that outlines the art of comics.
The last item is significant if only because writing comics is what Nitz does. A rare thing, to turn a childhood passion into a career, but Nitz has done it.
Nitz started reading comics at age 4. He would root the shelves of the Book Nook, a comic store in Atlanta. He read indiscriminately.
A precocious kid, Nitz would always race through school assignments, leaving his teachers befuddled. He remembers his first-grade teacher saying, "You're not disruptive, but you're finished, and you can't just sit there. What do you want to do?"
"I want to create super heroes," he said.
"Okay. Here's a notebook."
And with Captain Rat and Super Celery, Nitz took a step toward becoming a comic book creator.
When Nitz was in second grade, his family moved to Kansas City. Once there, he hunted for a comic store. He found Clints Comics.
Nitz read voraciously — "X-Men" and "Hellboy" were enduring favorites — throughout adolescence, then worked at two comic shops in high school. Afterward, he enrolled at Kansas University and majored in screen writing because the degree was closely aligned with comic book writing.
"Everybody was (skeptical) for a lot of reasons," says Nitz. "If you talked to somebody about comic books, they would say, 'Oh, they still make those?'"
Nitz made his first comic at 22, called "Con Sketch," a comedy that snagged him a professional job. The pro gig was temporary and didn't turn into more. So he self-published another and got hired based on that. It was a cycle he would repeat for years: self-publish, get hired, run out of work, repeat.
Then he had a breakthrough: He found a comic called "Mephisto and the Empty Box." "Mephisto" was large with 10-point card stock and a matte laminate cover.
"A regular comic book is a … fragile object," says Nitz. "(This) really took me. I thought, 'God that's a good looking comic book.'"
Using the Mephisto model, Nitz created "Paper Museum." He took it to Comic-Con to show Axel Alonso, editor in chief of Marvel Comics.
Nitz watched several writers hand comics to Alonso. Each time Alonso delivered a repetitive speech saying he'd look at the comic.
"I watched him do this same speech to three or four different people in a row," says Nitz. "When I handed him mine, he starts out (the same way), then he feels the comic. He says, 'What .. is this? ...This is incredible.' He's the sharpest, most astute creative editor on the floor of Comic-Con, and it stopped him dead. And I'm like, now I know I'm doing something right."
"Paper Museum" landed Nitz another paying job. Then his proposal for a second "Paper Museum," won him an Xeric grant, the prestigious award sponsored by Peter Laird, creator of the Teenage Mutant Ninja Turtles.
Around the same time, Nitz won a Bram Stoker Award for horror writing; the prize placed him in a circle comprised of people like Stephen King, J.K. Rowling and Clive Barker. (Alan Moore and Neil Gaiman are the only comic writers to who have won the award other than Nitz.)
Eventually Dynamite Entertainment, a comic book company that specializes in adaptations, recognized Nitz's talent.
"He never phones anything in," says Phil Hester, an artist for Dynamite who collaborated with Nitz on El Diablo. "Jai treats every gig like it's opening night at Carnegie Hall."
Nitz has written six issues for "Batman Strikes," worked on "Tron Legacy" and wrote an Iron Man and Spiderman children's book. Now he's working on a comic called "Silver Star." His future will be filled with days hunkered at his desk, his statue of Jack Kirby looming over him as he creates comics that will go on the shelves of stores like the Book Nook.
"That's all I ever wanted to do was make comics," he says.
More like this story on Lawrence.com