Thursday, January 26, 2012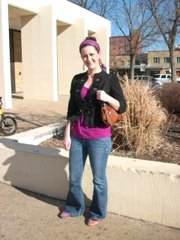 Name: Joanna Fewins Age: 30
Relationship status: Happily in a relationship
Hometown: Redfield
Time in Lawrence: 12-and-a-half years
Occupation: Development associate design manager at Kansas Public Radio
Dream job: To become an executive director or a general manager of a radio station
What were you doing when scouted? I am looking for books at the Lawrence Public Library!
How would you describe your style? My style is a little bit eclectic; I like to use complementary colors to coordinate the different elements in my outfits. I often put together pieces in an unconventional way.
Current favorite fashion trends: I am loving ankle boots, usually without heels, right now; also known as booties!
Fashion trends you hate: Uggs!
What would you like to see more of in Lawrence? I would like to see more people branching out in their personal expressions of style past your basic T-shirt, jeans and/or sports apparel.

Piercings or tattoos? My ears are pierced!
People say I look like…. Katy Perry
Tell us a secret: I really can't stand sports.
More like this story on Lawrence.com