Thursday, January 26, 2012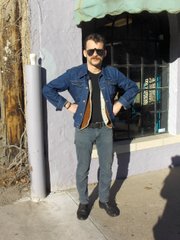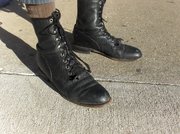 Name: Robert Knapp
Age: 24
Relationship status: Unemployable
Hometown: Houston, Texas
Time in Lawrence: Seven years
Occupation: Bartender/barista/musician
Dream job: Prophet
What were you doing when scouted? I was talking about the new X-Men comic book with my friend Randy.

How would you describe your style? Dead-head shaman punk
Current favorite fashion trends: Fur and feathers
Fashion trends you hate: Sandals worn with socks. Also, don't wear a belt and suspenders together — "If a man can't trust his pants, you can't trust him." Wearing them together is just rude. The only exception would be suspenders with an ammunition belt.
Fashion influences? Pigpen.
What would you like to see more of in Lawrence? Nachos, honky-tonk bars, and more guerrilla/flash art spaces and music, like the new "Lost Art" space where Penny Annie's used to be.

What would you like to see less of? Less drama, mama.
Piercings or tattoos? I have six tattoos.
Tell us a secret: I live on tacos and coffee.