You don't have to be Scottish to appreciate ol' Rabbie Burns, kilts, bagpipes and maybe even a little haggis. You just have to like a good party.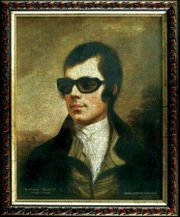 Past Event
Sunday, January 29, 2012, 6 p.m. to 10 p.m.
Jackpot Music Hall, 943 Mass., Lawrence
All ages / Free - $5
Or at least so say organizers of Lawrence's annual Burns' Night, a traditional celebration of Scotland's high poet, held this year at 6 p.m. on Sunday at the Jackpot, 942 Mass. St.
"There's a natural curiosity for people with some Scottish heritage," said Larry Carter, who organized Burns' Night at the Lawrence Art Center for 10 years before turning over the reins to Maria Anthony this year. "But this is fun for everyone."
Anthony said the "rousing evening" of Celtic music, poetry and food "always has a big range in audience" and this year will begin with a jam session from area traditional musicians followed by bagpipers and a "less formal" ode to Burns' poetry and song.
No previous knowledge of Robert Burns' work or Scottish tradition is required, she said, though you may already be familiar without even being aware – the prolific writer of nationalistic Highland lore born on Jan. 25, 1759, gave us "Auld Lang Syne," a song sung by Americans of all heritages on New Year's Eve.
The bands Glenfinnan, Forest Green and Uncle Dirtytoes will play throughout the night. "Auld Reekie," a traditional Scottish soup, will be provided (for a donation) by Rocky Road Bakery. More information, including clips from the Lawrence Scots' 2010 documentary on the event, "Scots on the Kaw," is available on the group's website.
More like this story on Lawrence.com