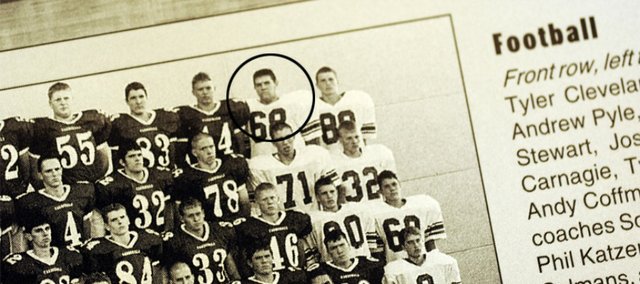 Back in high school, Danielle Steffen had her own personal radio — a big, burly radio with massive clod-stomping boots, a Eudora High letter jacket and no off button.
Behind the wheel in her family's old, green truck, the AM/FM dial was long dead, but the music was strong — and loud.
"We didn't have a radio in one of my dad's old trucks, and so he'd be like, 'Here's your radio,' and just start singing," Steffen says. "He sung all the time."
"He" is Jason Hamlin. And now several years later the former passenger-seat musician has a real shot at actually being a voice on the airwaves.
The 24-year-old born-and-raised Eudora native made it to the Hollywood round of "American Idol" last Sunday night with a growling rendition of Johnny Cash's "Folsom Prison Blues" during the show's wrap-up of its San Diego auditions.
Singing in a down-home, guitar-aided roots style he has loved since childhood, Hamlin, a golf course mechanic, impressed judges Steven Tyler, Jennifer Lopez and Randy Jackson enough to not only get advance to the show's next round but also to impress the producers enough to give him a full five minutes of airtime. For a show as powerful as "American Idol," it may as well be five buckets of gold bullion.
Pretty good for a big-hearted boy from a tiny bedroom community in northeast Kansas. If you go to Eudora High, where Hamlin graduated in 2005, and you'll find that everyone — EVERYONE — knows him. And it's not just because his class had only 81 people in it. Basically, his teachers, friends and various family members say, it was impossible not to know — and love — Hamlin.
"The center of entertainment — if he was around, everybody knew it," says Steffen, who was a year younger than "Fat Hammy" in school but is one of his very best friends. "He didn't care what you were like, either. He was pretty much going to be your friend no matter what."
A natural entertainer
Hamlin grew up in a house his parents built south of town, the youngest son of two Eudora natives who happened to be high school sweethearts before getting married. The family was musical, with Hamlin's mother, Nancy Mannucci, singing and playing guitar, while his father, Scot, enjoyed music in his own way: building custom guitars. But, says his big brother, Zac, they weren't exactly the Partridge Family.
"Music was always important ... and we sang a lot — folk and stuff, growing up," says Zac, who lives in Lawrence and has performed a bit with his brother at his aunt's place, Cutter's Smokehouse in Eudora. "And then Dad started building instruments. He had been building from when we were little kids, but you're a kid and the instruments were taboo, so we weren't allowed to touch them. And that limits, I think, your interest."
That said, the older Hamlin siblings sang in choir and performed in theater productions, but Jason seemed to prefer goofing off musically, like while riding around in Steffen's truck. In fact, singing publicly — with a purpose — didn't happen until fall of 2001, when Hamlin was goaded by his sister, Hannah, and the school's drama teacher at the time, Jeannine Sample, into performing as the deep-throated, people-eating plant Audrey II in the high school's production of "Little Shop of Horrors."
"Jason's older sister was in it, and we didn't have ... an Audrey II voice. I think it was Hannah who suggested him because Jason wasn't in choir," says Sample, who also had Hamlin as a student in her sophomore English class. Jason didn't seem interesting in doing it, Sample says, but he was persuaded eventually.
"And he was wonderful," Sample says.
They were in the old Eudora high school back then, and Jason was hooked up to a mic up where the spotlight was, so he was in the back of the theater during the performance.
Prom pirate
The theater bug didn't bite, but it could've been that Hamlin had enough of his own theatrical streak to get by without being on stage. He went to his sophomore prom as Elvis, and then to his senior prom as a pirate, going so far as decorating his pickup truck as a ship, perfect for carting around other pirates and maidens and making a splash at the dance. Every day was a dress rehearsal for Hamlin, says teacher Erik Peltzman, who had him two years in study hall.
"He's really a big guy, so he had these really big boots, but he never laced them up or anything. He just walked around in these boots all the time and shorts," says Peltzman, who has been fielding questions from his current crop of students about Jason's sudden celebrity. "Jason, just like you saw on TV ... danced to the beat of his own drum. He was just a real positive kid, great to be around, true character. I remember one day asking him — it was winter time and he was in boots and shorts — and I asked him, 'What's the deal with the boots and the shorts?' And (he said), 'Mr. Peltzman, I'm bring back a new style. This is the manly look.'"
Lessons from Dad
On "Idol" that style had changed again, this time borrowing from both his early high school Elvis roots and the added element of a new nickname he picked up after graduation when he was studying mechanics in Arizona: "Wolf."
Thus, the contestant facing the judges was a fella with slicked-back hair, forearm tattoos, mechanic's blues — emblazoned with "Wolf" — and a handmade guitar given to him as a gift by his father, Scot Hamlin, who died Feb. 1, 2010, at the age of 49.
The guitar — a "git-fiddle" as Hamlin called it — was a surprise he'd gotten at Christmas three years ago after teaching himself to play with a trashed-out guitar he'd picked up as a student in Arizona. At that time he was just starting to get into making his own music. That year, Jason's mother flew him in from his home in Livermore, Calif., to not only surprise Scot and the rest of the family for the Christmas holiday but also to surprise Jason by giving him his very own Hamlin-made guitar.
"I remember Scot saying, 'I know Jason. He can punish a few things.' He's a big, burly guy. So when he built it, he said, 'I'm not putting too much fancy stuff on this. I'm making a workhorse guitar for this kid because he's going to be banging it a ton.' He put the 'Wolf' inlay on the neck and he designed all that and sent it off for a guy to make," says Mannucci, who now lives in Colorado. "It was a big deal."
With his new guitar in hand, Hamlin refined his style even more and began to take singing much more seriously, choosing to perform roots and rockabilly music. Zac Hamlin says that style not only got his brother a small following in his central California town but also, randomly, in Europe.
"His special lady friend sells 'guts' for satellites that go into space. And, so, most of her work is in Europe," Zac Hamlin says. "And so he's been to Europe a couple of times and has gone and played gigs in different bars there because they like American people."
The next American Idol?
And apparently Americans like him, too. Since his "Idol" audition, bloggers, reviewers and entertainment reporters have been buzzing about Hamlin and his chances at winning. Most seem to have been as impressed as the three "Idol" judges, though Mannucci says niggling questions have come from left field: Why "American Idol"? And, moreover, could his fun-loving personality be authentic?
"Some of the grass-roots places are saying, 'If he's really a roots kind of guy, why would he go on a big reality TV show and do all these things?' And I think that his dad told him a long time ago — and his dad was a huge roots music fan — 'You know, I would love for you to get your music out, but here's the deal, Jason. You can starve and you can live in a tent and not own any possessions and you can drive all over this country and sing beautiful music, or you can go hit one of those reality TV shows and let everyone hear you all at once. Either they're going to like you or they're not,'" she says. "I think he just said, 'Dad's right. I love music, and if I do it, I do it. And if I don't, at least I tried.'"
And by the way, Eudora can vouch for the validity of the goofy showman who kissed host Ryan Seacrest and danced so hard he broke — and then mended — the show's celebration room backdrop.
"The thing that stuck with me the most is that he hadn't changed. He was the same kid he was when he was here six or seven years ago," says his former teacher Peltzman before starting to laugh. "It was kind of a shock to see him; life's not changed him much. He still hasn't grown up."
As for his chances to win "American Idol," even being the featured story on an episode of the show doesn't guarantee Hamlin will make it any further. He first must survive the Hollywood round of the show (which will air within the next two weeks), where the singers will be whittled down again by Tyler, Lopez and Jackson. Then, if he survives, he'll make it to the at-home voting portion of the show.
His friends and family are surprisingly level-headed about his chances, but just having seen all the attention he's received so far, they're pretty sure he's already gotten more than he'd ever dreamed of: a chance to perform on national TV, to share his beloved music with the masses, and, perhaps most importantly, to tell the story of his father, whom he clearly misses.
"My own personal opinion of it is, Jason would never be an American Idol. I think he did well (Sunday night), but I don't think he's the best singer by far of all the people that they have chosen probably," says his maternal grandmother, Nell Trefz, deadpan, before a smile creeps onto her face. "But who am I to say? What do I know?"
More like this story on Lawrence.com