Members of the Fresh Produce art collective have set up a new gallery in the former home of Penny Annie's Sweet Shoppe, 845 Mass. St.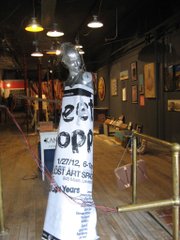 Audio clip
Final Fridays preview from the Lost Art Space
Related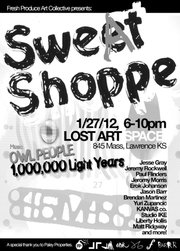 Artist Jesse Gray said the group first started using the space as a shared studio and gallery in December and will only remain until its owners find a new tenant.
In the meantime, about 15 artists are taking advantage of the "flash gallery" and opening a new show called "Sweatshop Sweetshoppe," a play on the studio use of the old candy store, debuting tonight at 5 during Final Fridays.
Gray said the downtown space, open every day from noon to 5 p.m., is great for the loose collection of mixed media artists, especially as many spaces downtown focus more on decorative arts.
They're calling the "recycled," temporary space the Lost Art Space and taking advantage of it while they can, he said.