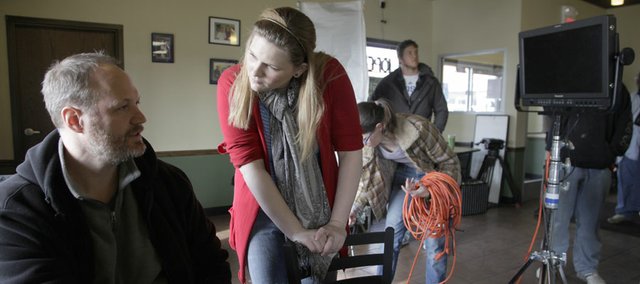 It's the middle of January. There's still a Christmas tree in the corner, and kids' footsteps rattle the floors upstairs at the Kuhlman residence.
"Daddy, we made a mess," one of them yells on the edge of the stairwell.
"OK," an exasperated Les Kuhlman says. "Just stay upstairs. They're filming down there."
Welcome to the set of an independent film. The playroom, the wooden model trains and the Christmas decorations are all part of Les and Kendra Kuhlman's actual Lawrence home, but they are also live sets for Blake Robbins' directorial debut, a feature he wrote called "The Sublime and Beautiful."
Photo Gallery
"The Sublime and Beautiful" behind the scenes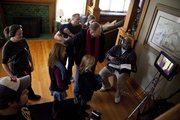 When the cameras roll, the Kuhlman's house becomes the home of David and Kelly Conrad, a couple whose lives are thrown into chaos when their children are killed in a drunken-driving accident one week before Christmas. Robbins — a Los Angeles-based actor with a long list of TV and movie credits — also plays David. Laura Kirk — an East Coast-based actress and KU graduate who moved back to Lawrence last year — plays his wife, Kelly, and is also co-producing.
"Our tree is hanging on by a thread. It's a live tree," says Kendra, an enthusiastic woman who seems to have enjoyed close to 25 people taking over her household for four 12-hour days. "We're kind of ready to take it down tomorrow, though."
She will be an extra today as the mostly Lawrence-based crew films a key scene — a funeral reception — in her living room. George, the family dog, has already been featured in the movie four times.
"We knew when we moved in a year ago that part of 'The Day After' was filmed in this house," Kendra says, referring to the notorious 1983 TV movie about a nuclear attack on the U.S., "but we had no idea that anyone would shoot here again."
Lawrence flavor
Everything about the production of "The Sublime and Beautiful" has come together through an amazing amount of cooperation with the Lawrence community. The Kuhlmans share a realtor with Kirk, who suggested their home might be a perfect place to shoot. The family said "sure," and two weeks later, filming was under way.
The convenience and the great locations Lawrence has to offer make the city a great place to film, especially on a tight budget.
"One day we went from Java Break to the Dynamite (Saloon) to Terrebonne to The Dusty Bookshelf to Henry's — you can't do that in a lot of places," Robbins says. "That day, The Eldridge let us stage all of our people down in their basement and we would just take sound and camera and a few actors and go to each location, then go back to The Eldridge and strategize the next location and go shoot it. How many towns in America can I get all those types of locations and be moving through a 10-page day?"
More than anything, however, Lawrence has a lot of talented filmmakers and a base of people who are willing to work hard. Outside of the cinematographer, the sound team, and six actors, everybody working on "The Sublime and Beautiful" is based in the area. That means around 20 speaking parts for local actors and plenty of crew jobs. Robbins even rented his cameras and equipment from Lawrence production house Through a Glass, which also became producing partners.
Movie's origins
The genesis of the film began eight years ago when Robbins originally wrote the first draft of the script with himself in mind for the lead role. Before that, he had apprenticed with friend Rob Morrow as he directed a 2000 feature called "Maze," but Robbins didn't make the decision to direct his script until about two years ago.
"As I started to hold a vision for myself as a director, I was like, 'Well, if I don't direct a movie that I wrote that I'm playing the role in and that I raised the money that I needed to do it, then who's going to hire me to direct something later?'"
Along with Kirk, Robbins co-starred in the 2008 Kansas-based movies "The Battle for Bunker Hill" and "The Only Good Indian," both directed by KU film professor Kevin Willmott — and those relationships were essential in getting "The Sublime and Beautiful" off the ground.
"Blake's been relentless trying to move forward with this film, and that's really what it takes. You have to have that 'do or die' attitude," says Willmott, who is an executive producer on this movie. "I think it's a great vehicle for him. He created a project that was designed to be done here and that's always very smart when you're trying to make an independent film — really trying to utilize those things that we have around us."
Recently Kirk was a co-producer and actress in director Chris Ordal's feature "Earthwork," also shot in the area, and she and Willmott have plenty of upcoming projects in the pipeline. Between takes at the Kuhlman house, the two talk about their vision for Lawrence's filmmaking future:
Willmott says, "I've always admired how Woody Allen—"
"… and the Coen brothers …" Kirk breaks in.
… work with a close-knit group of people," he continues. "We're sort of the low-rent version of that," Willmott says laughing.
It's a self-deprecating joke that matches the no-nonsense mentality of everyone working on "The Sublime and Beautiful," but Robbins says there's nothing low-rent about the footage they have captured so far.
The director says he's fallen in love with this area and is thrilled with how the movie is turning out.
"Cinematically, Lawrence is gorgeous," he says. "Lawrence in the winter is just gold. We just wanted a real town with real lighting and real circumstances."
As the crew sets up the Kuhlmans' living room for the next shot, Robbins catches one of those real moments. The kids are being rambunctious, playing around in the toy room, and cinematographer Lyn Moncrief points the camera their way. They're not paying attention at all, but every adult on the set knows what's happening and immediately gets very quiet.
Nobody calls "action," but the camera is rolling. This cut-in will no doubt prove to be a counterpoint to the main action of the funeral reception, where the adults sit around in a somber mood. The children, oblivious to the protocol of such an affair, are bouncing off the walls. Minutes later, Robbins silently signals. A sound guy yells "Cut!" and a big smile crosses the director's face.
It's the last day of principal photography — barring one final sunrise shot — and Robbins is already reflective. He had a moment just before shooting began that he says he'll never forget.
"I was driving through that thoroughly Kansas countryside and it just occurred to me that not many people get to be at the precipice of watching their dream come true and have that heightened awareness that, for better or worse, when my story's over, at least I can look back and say, 'Wow, I got to stand in the middle of my dream coming true,'" he says. "That is enough for me. The film just turned out to be the cherry on top."
More like this story on Lawrence.com