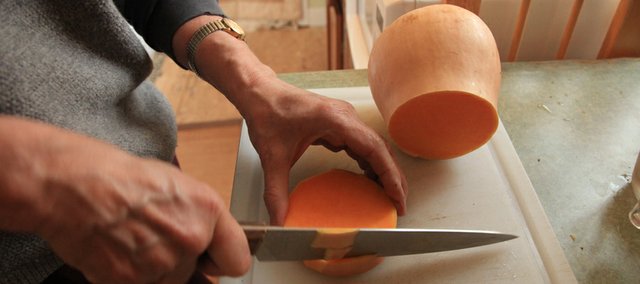 Bargain star: Red Lentils
One ounce has:
97 calories
1 gram fat
3 grams of fiber
7 grams of protein
12 percent of your daily iron
Collards with Lentils, Tomatoes and Indian Spices
1 medium onion, chopped
4 cloves garlic, thinly sliced
2 teaspoons garam masala
1 (15-ounce) can no-salt-added diced tomatoes
1 bunch collard greens, thick stems removed and leaves sliced into 1-inch-thick ribbons
1 cup red lentils
Bring 1/2 cup water to a simmer in a large deep skillet over medium-high heat. Add onion and garlic and cook 5 minutes or until onion is translucent. Stir in garam masala and cook 1 minute. Add tomatoes and their juices with 1 cup water and bring to a boil. Reduce heat to medium-low and stir in collards. Cover and simmer 20 minutes.
Meanwhile, combine lentils and 2 cups water in a medium pot. Bring to a boil. Reduce heat to a simmer and cook about 8 minutes or until lentils are tender. Stir lentils into skillet with collards and serve.
— Recipe from www.wholefoodsmarket.com.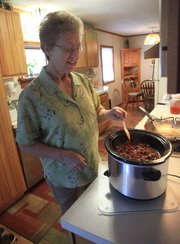 This winter, struggling Greeks found space in their economy-trashed budgets for a little book called "Starvation Recipes" by Eleni Nikolaidou.
A collection of tidbits from more than 6,000 newspaper articles from 1941-1944, the cookbook has become a sensation in the country, which has been one of the world's hardest hit in this time of economic recession.
Here in the United States, many Americans are struggling, too, and, as result, changing the way they eat. Or at least trying.
Susan Johnson, extension agent with Douglas County K-State extension, and Nancy O'Connor, director of education and outreach at The Merc, 901 Iowa, field questions day in and day out about how to stretch a food budget. Both have the same answer: Cook, and cook simply.
"The thing I hear so much when I go out and teach is, 'I can't afford to eat well.' And I recognize that not everybody can afford to eat raspberries when they're not in season or more, maybe, expensive items," O'Connor says. "But everyone, everyone, can really can afford to eat healthfully, but it requires an investment in time."
We talked with the two educators as well as with two home cooks well-versed in the ways of getting great nutrition on a budget: Pinwheel Farm owner Natalya Lowther and one of Johnson's master food volunteers, Helga Barton. The four shared with Go! some fabulous tips for eating well on a budget, avoiding waste and making the most out of your time in the kitchen.
Already a cook? Refine yourself
Want to save money on food? Cook it yourself. That tenet is well known. Maybe you started cooking for yourself in the past few years — great. But chances are you can still do more to save money, by refining your technique and giving up ingredients that could be even cheaper.
A prime example? Switching from canned beans to dried beans. Canned beans are cheap, yes, but dried beans are so cheap they're nearly free.
Learn the art of bulk
Speaking of dried beans, you can find those most cheaply in your grocer's bulk section. And using the bulk section to your advantage is an important key to eating well on a budget, says O'Connor. An important note: many times "bulk" is only associated with buying a lot when it can be a very helpful way to save money for those who don't need much.
"There are a lot of advantages to the bulk department. Here's one thing I see: Sometimes people want to eat more healthfully and they will buy a $4.50 packaged box of something. And then they get it home and they try it and they don't like it. In the bulk department, experimentation is affordable. Because if you want to try to cook up a new grain or a new kind of rice, you can buy a half a cup of it," O'Connor says. "And that's a value."
"Spend" your time, "shop" your fridge
Yes, cooking dried beans takes time. So does parceling out individual servings from a giant bag of oats (as Lowther does each week), or chopping veggies yourself, rather than buying pre-cut. But if your bank account is suffering, it's well worth sacrificing your time to eat better, says Lowther. But, she says, you don't have to give up the rest of your life to eat cheaply and well — just stay organized and plan by opening the fridge door.
"One of the most important aspects of eating inexpensively is to do your meal planning by opening the refrigerator instead of the cookbook," Lowther says. "If you start with the recipe, then you're a lot more likely to say, 'I need a can of this, I need a can of that. And I need a package of that. And I need a whole head of celery because this recipe calls for a tablespoon of chopped celery.' And if you don't have plans for the rest of that celery, that's making that tablespoon cost a lot of money."
Limit your ingredients
Johnson says her top rule when looking at a recipe is to see how simple the ingredient list is. If there are more than five or six items in a recipe, chances are it's not going to be cheap.
"Whenever we start adding a lot more ingredients to recipes or any kind of food, or even convenience foods that are loaded with ingredients, it is not as healthy and it costs more," says Johnson, who also recommends simple preparation, rather than gourmet. "If we can think about eating simply, that to me is one of the keys."
Shop seasonally and mean it
Lowther's meals definitely have the rhythm of the season in mind. Summers are full of fresh vegetables that are sometimes washed and eaten right there in the field. In the winter, she lives off what she has stored, taking advantage of the longevity of squashes, sweet potatoes and other root vegetables.
"I eat what I grow in season and I don't expect to eat a lot of salads in the winter, necessarily; I don't eat a lot of fresh fruit in the winter," Lowther says. "In the winter, I'm more likely to have potatoes and onions and things like that that are easy to store, whether I grow them or somebody else grows them."
Take advantage of your slow cooker or rice cooker
If the perceived amount of time you'll spend cooking from the bulk bins scares you, try taking the "work" out of it, by using your slow cooker or rice cooker to soften the dried foods you can find there. Barton especially likes using a slow cooker to make soups, stews and chilies from dried bulk finds and leftover veggies.
"It's a very nourishing way to stretch your food dollar," Barton says of homemade slow cooker soups. "It's easy to use when you're working. I used to work nights and, in the morning, I would get home, and I would put on a Crock-Pot of what I had the night before. Simmer it all day, and when my husband got home in the evening, dinner was ready. And it was really easy to do."
Use your odds and ends
Have bits of leftover vegetables? Don't trash them, use them. Anything you throw away adds to your grocery bills. Some good ways to use them up:
Soup stock. A fabulous tip from Johnson and Barton? Keep a Tupperware container in your freezer. When you have leftover veggies (carrot ends, unused onion, etc.), throw them in your frozen container. When the container is full, make vegetable stock or soup from the contents.
Leftover muffins. Lowther says that to this day her mother will throw leftover veggies or fruits in a basic muffin recipe as a way to use up what she has. Everything from pineapple, to apples, to carrots to zucchini will all work in a basic, spiced muffin recipe.
More like this story on Lawrence.com