Career changes throughout the timeline of anyone's working life are to be expected, through job changes, promotions, retirement, etc. But sometimes a career change is a dramatic one, a quantum leap of fields that requires courage, foresight, hard work and more than a pinch of luck. The following three Lawrence residents have made such leaps in the past few years, and each has a story to tell.
Amy Carrillo: Sheriff's deputy turned Silpada jewelry saleswoman
Amy Carrillo once dreamed of being an FBI agent who profiled serial killers. In 2000, she signed on to become a corrections officer at the Douglas County Sheriff's Office, figuring that working in a law enforcement office would get her a couple of steps closer to that dream. (Plus, it would get her some health insurance.) She switched back and forth from working in the jail, primarily with women, to becoming a deputy and working administrative detail, to working alone in light-duty tasks. Eight years and two kids later, the FBI dream was fading.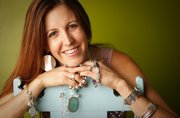 "It was easy work, but mind-numbing," says Carrillo, "I had to do shift work. And wear blue polyester."
In 2008, Carrillo went to a Silpada party, a home-show party for sterling silver jewelry. Afterward, she talked to the Silpada representative and found out that the rep made $300 that night for just showing jewelry, without a major sales pitch. She started crunching numbers in her head and figured that she would only have to do a few parties a month to make it worthwhile to quit her job and be able to stay home with her kids. She signed up that weekend as a Silpada representative and quit her job at the Sheriff's office three months later to pursue it full-time.
Four years out from that career change, Carrillo has 35 representatives that she sponsors in a pyramid sales structure and is in the top 3 percent of Silpada recruiters. She's won two free trips to the tropics for meeting sales quotas and goes all over the country to attend seminars, paying only her own airfare.
"Now I have time to do the things I like — train for races, meet new people, stay home with my kids. And I've met a ton of amazing women — I feel like I found the friends I was supposed to have. It's a lot easier than arresting someone."
Randy Barnes: Creative art director turned real estate agent
Randy Barnes is a true Lawrencian, if not by birth, then certainly by choice. In 1997, he moved his family to Lawrence to accept a position with Payless Shoes in Topeka as Creative Art Director. In 2002, Payless downsized its creative department and Barnes' position was a casualty of the restructuring. There were other jobs in his field available, but they were in places like Boston or Minneapolis. Barnes and wife, Michelle, decided to risk a career change in order to stay in the town they had grown to love.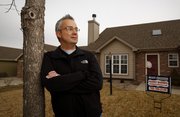 "Back in 2002, the real estate market was booming," explains Barnes, "I had considered buying some investment properties anyway, and so with the change at Payless, I just took that and made it a new career."
Barnes took out a home equity loan to float the startup costs. He also went through their expenses with a fine tooth comb and cut out close to $1,000 a month in superfluous costs without drastically impacting daily life. And he threw himself into the new career, getting involved with the local Board of Realtors and networking wherever he could. Barnes estimates that after 3 years, his salary was comparable to that of his corporate job.
"But my life is so much more enjoyable than when I was at Payless," says Barnes. "I've been able to be involved in my kids' activities and be out and about in the community. My life before was really fast-paced, and now it's much more slow. I like it."
That's not to say that it's easy. In the busy spring and summer seasons, Barnes can be working until late at night, 60-70 hours a week. And of course, there was the real estate market crash.
"I've had years where production numbers would fluctuate by half of previous years, but if it got slow, I would just take classes to get better equipped. I just hung in and decided to make it work, showing up to work and connecting. And this past year was one of my best years."
Mark Hutchinson: Professional photographer turned IT specialist
"It was the perfect storm — the economy tanked, and digital photography got very affordable, so that everyone and his Uncle Bob had a digital camera," says Mark Hutchinson of his decision to leave his professional photography career for one as an IT specialist.
Hutchinson owned a photography business from 2000 to 2008, doing commercial, portrait and wedding photography. Among his commercial clients were Baker University, Kansas University School of Business and Lawrence Magazine.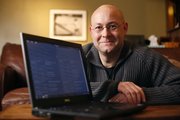 While flexible, the business was demanding in that Hutchinson worked long hours and was away from his family on most weekends doing shoots.
In 2007 and 2008, as the economy turned south, the business was stagnating, and Hutchinson needed a more reliable paycheck. He was already somewhat computer savvy and went for a four-month IT training school in Leawood. He graduated in August 2008 and got a job through a temporary agency for IT work.
The pay was really low, but after two years, a permanent position opened up in the company, and Hutchinson was hired on. Now three years out, the salary is exceeding what he made in photography. He is the company's Mac expert, which draws on his experience using Macs during his years as a photographer for image editing and Photoshop.
Hutchinson still does one or two shoots each month, which whets his appetite for the creative.
"I do miss the flexibility," he says, "but not the long hours or the working every Saturday. I'm definitely glad I made the change — it's a lot more stable — I work 40 hours a week, 7:30 to 4:30 every day. When I'm done at the end of the day, I'm done."