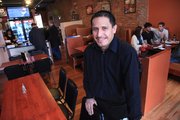 If you like Latin flavors, nowadays Lawrence's downtown is ground zero for your dining experience.
Want an old favorite? Check out La Familia.
Authentic Mexican? Mexquisito is there for you.
Nuevo Latino? Esquina is the place for you.
Tacos? Fuzzy's Taco Shop takes them seriously.
Straight Latin? La Parrilla is the way to go.
Straight Mexican? Cielito Lindo has what you need.
Free food with your margaritas? Tapas will fill you up.
A Latin-tinged choice while dining with others? Several restaurants have Latin-themed dishes, everywhere from The Global Cafe to Free State Brewery to The Mirth Cafe.
To say Simon Bates is feeling a bit smothered would be a slight understatement. A co-owner of Esquina, he says that all of a sudden, the competition is kind of ridiculous.
"Oh, yeah, there's like 500 of them," he says with a laugh about the sudden spurt of Latin restaurants within a four-block radius. "There's so many different types of Latin American food. Everyone is trying to take a different spin. And that's what we did when we opened. I feel like we got to build up a good clientele these past two years and so it definitely did help to be on the forefront of that trend."
That trend started two years ago, when Esquina took up shop in the former Round Corner Drug space. The idea was Nuevo Latin cuisine — taking traditional ideas then breaking the rules. At the time, downtown was home to only three other locally owned Latin restaurants: La Familia, Cielito Lindo and La Parrilla. After Esquina opened, the trend seemly broke open, bringing in three long-planned Latin restaurants in the past six months: Fuzzy's Taco Shop, Mexquisito (from the owners of Tortas Jalisco) and Tapas.
Lawrence has more than doubled the number of Latin restaurants downtown since 2009. In the 700 and 800 blocks on Massachusetts Street there are four alone. Three of them new since winter began.
The influx has been one of hope and one of frustration, depending on who you are. If you're Phillip Rodriquez, you're wishing for the way things were even five years ago. Rodriquez is the owner of La Familia, a restaurant his mother originally opened in North Lawrence in 1987 before moving to its downtown space at 733 N.H. in 1991. Being well-established is both a blessing and a curse, says Rodriquez, who estimates that since Esquina went in his lunch business is down 30 to 40 percent. That said, he's not sure if that's because of competition or the because of the downturn in the economy.
"I'm kind of shocked that this many opened up in a short period of time. Fuzzy's and Tapas and Mexquisito all opened up within a three-month period. And Mexquisito and Tapas are right behind me," Rodriquez says. "I can't say they're terrible and I can't judge them for what they're doing because everybody's got a right to have a business, but Lawrence is not big enough for this many right now."
John Records couldn't disagree more. It could all be perspective, but the co-owner of Fuzzy's Taco Shop, 1115 Mass., says he's eaten at every other Latin American restaurant downtown and thinks there's a niche customer base for each.
"Over the course of the summer we sampled all those, and we saw something to like in every single one, but we just felt we were doing something different," says Records, whose shop is one of 51 franchises and counting. "There is a definitely a supply and demand at work here. There is a demand for Mexican-style food. And I think that the people that have invested their money to do this ... believe that the demand is not saturated. That there's plenty of room for folks to exist."
The owners the newest restaurants to hit downtown — Tapas, 724 Mass., and Mexquisito, 712 Mass. — are also optimistic. They both feel their restaurants are unique enough to make it. Both Gustavo Juarez of Tapas and Angel Alvarez of Mexquisito are confident they have what customers will want to spend their dollars on.
"What we're trying to do is be unique and different than anyone else," says Alvarez, who worked with his brother-manager Jose to make sure Mexquisito was different from the family's flagship restaurant, Tortas Jalisco, 534 Frontier Road. "There can be 100 restaurants, but you have something that only you have that's unique, you're OK. All the dishes that we have downtown, you can go to any Mexican restaurant and not find a single dish that's the same."
Over at Esquina, 801 Mass., Bates isn't taking any chances. He truly believes downtown Lawrence is in a dog-eat-dog situation when it comes to restaurants of all kinds and is taking appropriate measures to stay new and different.
"We see the same customers every day. I know there's only X amount of people who are eating out downtown and it's just a matter of where they're going to go," says Bates, who is also a co-owner at The Burger Stand at the Casbah, 803 Mass. "We're actually trying to move more in the direction of Mediterranean Spain, old rustic dishes. Changed the menu, changed the layout. Paella, lots of ham, oysters. We're going to have a seafood bar and that'll be out in the dining room. So, we're making some changes to keep things interesting and to stay competitive."
Bates says those changes will come this month and that they are more of a response to the total number of restaurants downtown, not just those with Latin flavors.
"There's a lot of restaurants that go out of business — that don't even make it a year," Bates says. "I feel like there's people that come in on a busy game day weekend and see how busy the town is and then they want to open a restaurant in Lawrence, because they think it's like that all the time, and it's really not. It really challenges everyone to do a better job. It'll be survival of the fittest."