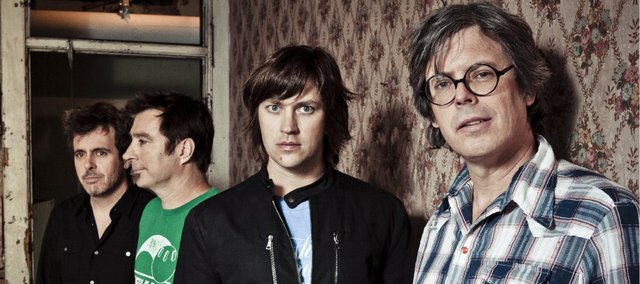 Tuesday, January 31, 2012
It's been nearly 20 years since the Old 97's formed in Dallas, with a sound that screamed cheap beer, dirty flannel shirts and unrequited romance. The band may be older, but its members – lead singer and guitarist Rhett Miller, guitarist Ken Bethea, bassist Murry Hammond and drummer Philip Peeples – continue to stay true to the alt-country sound that brought them to the cusp of stardom, but never quite put them over the top.
While other alt-country pioneers like Wilco and Ryan Adams achieved stardom, the Old 97's have quietly kept plugging away. Miller says he's glad the band didn't achieve instant success. Instead, the Old 97's worked steadily to build a passionate fan base, and enjoy the occasional foray into pop culture, thanks to songs included in films like "The Break-Up" and television shows like "Scrubs."
The Old 97's released its 14th and 15th albums – a two-volume effort called "The Grand Theatre" (New West) – in 2010 and 2011. Miller's solo career has taken off, too, with a live disc of covers called "The Interpreter" (Maximum Sunshine Records) released late last year, giving his take on songs by Tom Petty, David Bowie, the Pixies, Woody Guthrie and more.
Miller talked with Lawrence.com about the band's evolution, its upcoming show Wednesday at the Bottleneck and its penchant for board games.
Past Event
Wednesday, February 1, 2012, 8 p.m.
Bottleneck, 737 New Hampshire, Lawrence
All ages / $16
Alex Parker: Where are you right now?
Rhett Miller: We are in Charleston, S.C. We just finished dropping down thru Athens (Georgia) and Florida, and we're headed on up the East Coast.
AP: When was the last time you played in Lawrence? What keeps you coming back?
RM: I think we hit the good old Bottleneck about a year ago. We just love Lawrence. I think our first gig there was at the Replay Lounge. It's a great town. It's like my favorite college towns – Austin, Madison. It's got that element of weirdness to it that college towns need. I've always loved Lawrence.
AP: I've seen you play at festivals like Milwaukee's SummerFest and small venues like Chicago's Lincoln Hall. Do you prefer smaller venues like the Bottleneck?
RM: It's hard to say. The small venues like the Bottleneck have a definite charm, and the band does really well because that's where we spent our formative years as a band. I prefer theaters. I prefer theaters with no seats because it feels like a nightclub. It's fine line with a nightclub because you have intimacy. With a theater, you have elegance. With the Bottleneck you have a world-class dressing room with the gnarliest graffiti you've ever seen.
AP: The Old 97's is coming up on a 20-year anniversary; what's kept you together? How have you changed?
RM: Next May it'll be 20 years. I think that we've been lucky to have the sort of slow growth we've had over the years. The bands that I've seen that have had a hit really early tended not to survive it. I think our lack of phenomenal success has be a blessing in disguise. There's the old clichéd stuff; we respect each other and all that.
AP: You guys have boundless energy when you play – especially you. You leave everything on the stage. What kind of a show can people expect Friday?
RM: It's not the same show as always because I go over the set list and try to keep it fresh, and mix it up and make sure it's different from town to town. It'll be an Old 97's rock show. It's cool that I'll be able to do a solo acoustic set to open.
I've been really enjoying singing the songs that are on my new record. I've been doing "California Stars" (a Woody Guthrie song interpreted by Billy Bragg and Wilco). People love that. It's such a crowd favorite.
AP: You released a solo record of cover songs, including songs written by Woody Guthrie, Tom Petty and the Pixies. How did you choose these songs?
RM: Oh gosh. They were all different, but they were all my favorite songs. There's a song by Aztec Camera ("The Birth of the True") that I played in my talent show the first time I played in front of people. "Waterfall Sunset" is my favorite song ever.
David Bowie's my all-time number one hero. There's two of his songs on there. Elvis Costello is a big hero of mine. I picked my favorite songs. If it was a bunch of weird stuff that no one had heard of, I think it would have been a weird album. So I just picked songs I was comfortable singing.
AP: What's something nobody knows about the Old 97's?
RM: We don't have one single tattoo. We like to play board games. Our guitarist Ken is the master of board games, and he brings in new ones all the time. Lately we've been playing one called "Dominion."
AP: Anything else you'd like to add?
RM: We're really excited to come back to Lawrence. We love it. We hope to see some of our old friends, and make some new ones.
We've got a band (opening) called the O's that we really love. It's a two-piece band with a banjo, and they sort of share the drum set between them. They're a really cool band. We like them a lot.
The Old 97's play the Bottleneck Wednesday at 8. Tickets are $15. Caitlin Rose and the O's open.
More like this story on Lawrence.com