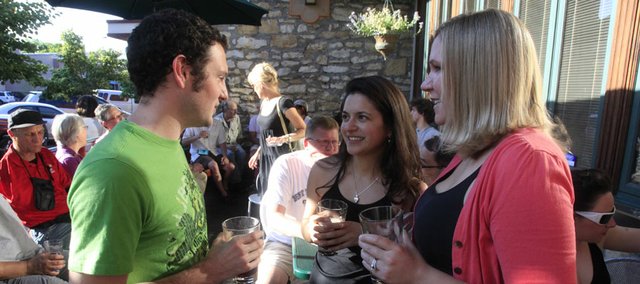 Happy hours, ladies nights and even Vanna White look-alikes soon all may be making a comeback in Lawrence bars.
A new state law took effect Sunday that once again makes happy hours and several other alcohol-related promotions legal in Kansas after a more than two-decade prohibition.
Previously state law prohibited drinking establishments from offering special drink prices during just a period of the day, said Jeannine Koranda, a spokeswoman with the Kansas Department of Revenue. Instead, if bars wanted to offer a discount, they had to offer the discount for the full 24-hour period.
The new law scraps the all-day pricing provision, and also allows bars to begin offering drink specials to certain demographic groups, such as ladies or members of fraternities or sororities.
Several Lawrence bar owners said they expect to see some creative promotions in the coming months.
"I'm sure there will be some fun ones," said Rick Renfro, owner of the Johnny's Tavern establishments in Lawrence and the Kansas City area. "The best one I've heard so far is a Wheel of Fortune type of thing. They spin the wheel and whatever comes up will be the drink special for the next hour."
Phil Bradley, executive director of the Lawrence-based Kansas Licensed Beverage Association, said he's been working for 15 years to get the state law changed, He thinks the new provisions will help Lawrence drinking establishments market to non-traditional customers rather than rely solely on college students.
For example, he said bars could host afternoon promotions that target retirees or other people above a certain age.
"You could call it 'an old enough to know better' hour," Bradley said.
What remains to be seen is how aggressive Lawrence bars become in pricing alcoholic drinks. Renfro said he doesn't expect drink prices to drop much in Lawrence because the local market already has relatively low drink prices because of the large number of drinking establishments.
Rick Younger, owner of Rick's Place, however said he could see the return of the "drink and drown" specials that were popular in the late 1970s and early 1980s. Those specials involved bars charging a higher-than-normal cover charge but then selling draw beer often times for just a few cents.
The new Kansas law requires bar owners to sell all alcohol at or above their costs, but Younger said for some types of draw beer that could amount to 25 cents or less.
"You can have some pretty cheap drink prices and still meet the law, but the key is you are going to have to have a lot of volume," Younger said. "I don't think we're going to really know which direction this goes in Lawrence until school starts again and until football starts again."
A spokesman for the Kansas chapter of Mothers Against Drunk Driving said the organization didn't take a position on the new law. He said his organization is most concerned that bars don't sell to people under 21, and that drinkers make plans to have designated drivers.
Koranda said she is not aware of any particular challenges the new law will create for her department's Alcohol Beverage Control division, which regulates drinking establishments in the state.
Renfro said he's not anticipating any problems either. Instead, he's mainly curious to know whether the old-time traditional happy hour trend of office workers and professionals having a few drinks after work returns.
"I think it may make a comeback," Renfro said. "I've always said one of the reasons you go to work is so you can have a beer after you are done with it."