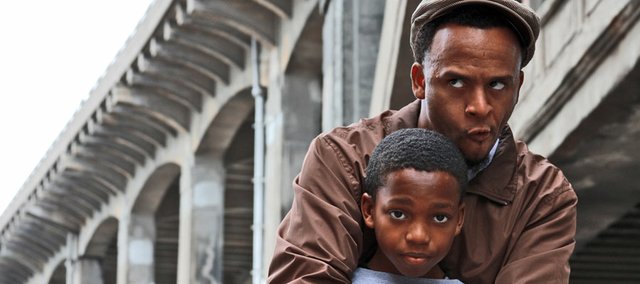 It's pretty much impossible to not notice the teeth.
Sean Hunt's missing the two right at the front, and several others are damaged. He broke them when he fell off the stage at the Jackpot in November, he says, and hasn't gotten them fixed because it'd mess with his speech. Can't do that at the moment — he's right in the middle of recording his eighth album.
But talk to Hunt longer, of course, and you'll notice there's much more to him.
There's a certain humility in his words about himself. There's his casual joking, an easy charm with friends, dispensed from an all-too-well-lit booth at the Replay in the middle of the afternoon. There's a calm to his conversation, a politeness, a lack of harsh words. And then there's the sense that Hunt has an unwavering devotion to his craft. His work is good because of the work he puts into it. And his reputation is good, it seems, because of the work he puts in for others — collaborating, co-producing, running Datura Records.
There's a lot to notice about Sean Hunt. In short, if you haven't yet noticed one of the area's best MCs, you ought to.
On Saturday night Hunt, better known as Approach, will play the final set scheduled in this weekend's Lawrence Field Day Fest, closing out the Bottleneck starting sometime after midnight. He's back in Lawrence, recording and self-producing as well as playing live, after he moved to San Francisco in 2007. He worked there as buyer for Whole Foods until he decided it was time to come home in 2010. It's easier to tour from here, he says, and he's close to his family — mom, three sisters and little brother — in Kansas City.
Hunt originally wanted to be a visual artist, not a lyrical one, and he eventually turned down scholarships to the Kansas City Art Institute, he says, because he didn't feel right taking them when he was already gone so often on tour.
"I've been running ever since," he says of his start — a big break to get onto a world tour in when he was 20. "I kept opportunities coming from then because of the company I kept."
That company now includes the artists he moved out to California with as well as those here and in KC. His album in the works is a rare solo effort as he's doing the engineering himself, a process he says is rewarding, if frustrating.
"I love it but it also reminds me why I stopped doing it all myself," he says. "It's kind of like having all your insecurities on display."
The whole act of producing art is kind of selfish, he admits — or at least self-absorbed. His music and rhymes reflect him and his life; he calls it his audio journal. But he also aims to make his songs all ones he can translate to the stage.
"When you spend all this time creating music in your bedroom, it's like something you can control," he says. "When people can connect with it, that's humbling. That's a good experience."
Hunt is 33 and obviously established as Approach, but he's at a point now of further improvement.
He says he's seen "a lot of creative growth" in himself through the production process. "I push to get better and I think I've seen better control over my voice and delivery," he says. "I feel like I'm finding my stride."
More like this story on Lawrence.com