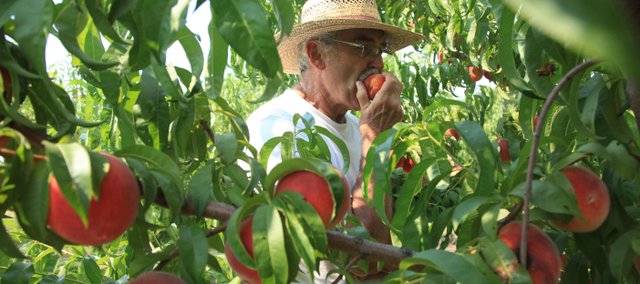 Buy local peaches
• Vertacnik Orchard, 1403 E. 1850 Road, sells peaches from noon to 6 p.m. Mondays, Wednesdays, Fridays and Saturdays. Pull up to the garage and, if David Vertacnik's not already out there, honk for service.
• Floyd's Fruits and Vegetables sells peaches and other produce at the Saturday Lawrence Farmers Market, from 7 a.m. to 11 a.m. at Ninth and N.H. streets.
• Gieringer's Orchard, 39675 W. 183rd St. in Edgerton, is open from 9 a.m. to 6 p.m. Monday through Saturday. They also sell regularly at several area farmers markets, including Olathe, Overland Park and the Tuesday Lawrence Farmers Market, from 4 p.m. to 6 p.m. at 11th and Vermont streets.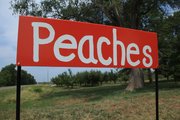 Last week, rural Lawrence resident Karen Frick made her third peach-buying visit to nearby Vertacnik Orchard, where there's an unusually bumper crop of the sweet, juicy, fuzzy-skinned fruit.
"We have been through I don't know how many pounds now," Frick said. "We're totally absorbed in peaches."
So is orchard owner David Vertacnik.
Vertacnik Orchard, 1403 E. 1850 Road, has grown apples for decades and just planted peach trees four years ago. After the 2011 Kansas winter resulted in a summer with little to no peaches, he and some other area fruit growers are experiencing a banner year.
The day Frick picked up her latest batch, it was more than 100 degrees, the sun was scorching and brown patches of grass in Vertacnik's yard crunched underfoot.
His peach trees, aided by irrigation, were like an oasis.
"Look at this," said Vertacnik, lifting a baseball-sized specimen from behind a leaf. "Look how big these things are."
Vertacnik has thinned his trees twice, but the branches are still heavy with fruit. He has four different peach varieties and hopes to continue harvesting and selling throughout July, possibly event into early August.
Gieringers Orchard, 39675 W. 183rd St. in Edgerton, specializes in peaches and usually has them every year, said Melanie Gieringer, who owns the orchard with her husband Frank. But last year, even the Gieringers didn't have a one.
"We froze out," Melanie Gieringer said.
This year's crop may have been worth the wait. Gieringer is convinced their peaches are even juicier and sweeter than usual, something she said she's heard from customers, too.
"Even the small ones, they're tremendously sweet," she said. "They're really good."
At his orchard in Eudora, Floyd Ott also had no peaches last year but had to thin his trees more than once this year.
"I've got so much fruit it's a problem," Ott said. "I have the most intense fruit this year I have ever seen."
Fruit growing in Kansas can be a finicky business.
Ott, 86, has been at it a long time — he planted his first trees in 1954, to be exact. This year he had a hearty crop of apricots for the first time in years and his apples are looking as good as ever, but his plums lost all their blossoms and he didn't get any.
Ott said he's even had some years where his neighbor had beautiful peaches and he had none.
"Don't ask me how," he said.
Maybe hot weather could be helping this year's peach crop. Or maybe, Vertacnik wonders, a summer with no fruit allowed the trees to store up their energy for this year.
Most people point to the mild winter to explain why Kansas fruit crops are coming on three weeks to a month earlier than normal — including peaches.
Frick said she's been enjoying hers with fresh cream from Lawrence's Iwig Family Dairy store, 1901 Mass., peaches and granola for breakfast, peach crisp and even fresh peach daiquiris.
But especially on a hot summer day, Frick said, it's hard to beat the simple pleasure of leaning over the kitchen sink and biting into a perfectly ripe peach — juice running down your arms and all.
"That's the best," she said.