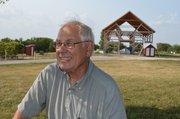 DE SOTO — Everything's coming up sunflowers at a site along Kill Creek Road that, at times, has seemed cursed.
This weekend, Zimmerman's Kill Creek Farm in De Soto will host the third annual Sunflower ArtFest.
The De Soto Rotary Club began growing and selling sunflowers there four years ago to raise money for Rotary International's polio fight.
"We thought their project was so beautiful that it would be great to do an art festival with it," said Rose Burgweger, president of the De Soto Arts Council.
So in addition to the sunflowers, which have grown to include nine varieties, the event features area artists, whose numbers have grown to 21.
There is no admission fee for the event, which will feature live music, artist booths and a tent filled with sunflowers portrayed in a variety of media. But donations will be encouraged to help enclose the timber beams that have sprouted next to the sunflowers.
Rebuilding the barn
The white oak beams form the skeleton for the new Barn at Kill Creek Farm, which will be a near replica of the 130-year-old timber-frame structure Darrel Zimmerman relocated to his property and, with a little help from his friends, reassembled in 2000.
The idea, he said, was to preserve a slice of rural history and provide an attention-getting outlet for the pumpkins he raises on the rich bottom land his family was tilling before his birth 75 years ago. And at first, he got more than he bargained for.
Within the first couple of years, the massive barn at 9200 Kill Creek Road had won a state historical preservation award and was hosting not only Zimmerman's annual Harvest Festivals but also weddings, art fairs and all manner of community events.
"That barn was just a really neat landmark and gathering place for our community," Burgweger said.
But during one gathering, a 2002 meeting of the Johnson/Wyandotte Counties Council of Mayors, the barn's festive feel turned tragic.
Death and destruction
Shawnee resident Jean Newkirk, attending as a representative of the League of Women Voters, fell while descending a stairway from the loft and died.
Then, in 2008, high winds racked the 40-foot-tall barn, necessitating the use of tie rods and steel plates to restabilize its upper reaches. And on the night of May 12, 2010, tornadic winds toppled the barn, scattering remnants across Kill Creek Road.
Amid the wreckage was a large clock, its batteries knocked loose.
"So I know exactly when it happened," Zimmerman said, pointing to the clock's hands. "11:11."
A few minutes later, Zimmerman got a call from his daughter — "Dad, barn's gone," she said.
Later, the daughter urged Zimmerman to use the $80,000 insurance settlement to travel around the world.
"She said, 'Donate some money to build a shelter house for a park or something, but don't rebuild that barn,'" he said. "But I had to. I could have lost a family member and not been much more hurt than I was from losing that barn. It had become my life."
In a former life, Zimmerman taught science for 33 years in the De Soto school district. But a slight stroke temporarily slowed his speaking ability, forcing him to retire in 1993.
That was the year the Kansas River flooded, wiping out the longtime you-pick pumpkin patch of the Caldwell family, which farmed adjacent to the Zimmermans' acreage in the bottoms. The Caldwells decided to get out of the business after that. So in 1994, Zimmerman began raising pumpkins in the bottoms and selling them at his more high-profile Kill Creek Farm.
A few years later, Zimmerman visited the Ernest Waitzmann farm near Gardner to ask if he could purchase the family's old barn, which he had once visited during a 4-H project tour.
"His wife answered the door and told me her husband had been wanting to get rid of it for a long time," Zimmerman said. "So they said I could have it."
'Sharing the work'
Zimmerman, who has had a love affair with barns since exploring them as a young farm boy, asked a few friends to help him reassemble his acquisition because he wanted to prove that "sharing the work" still had its benefits. That's a phrase his father used to describe the help local farmers lent one another when it came time to harvest wheat, put up hay or fill their silos.
Not only was that more practical than going it alone, Zimmerman said, but it also had a couple of side benefits: incredible meals prepared for the helpers by farm wives trying to outdo each other and camaraderie among the men.
In the same spirit, Zimmerman and his barn-raising helpers bonded "like a bunch of old kids playing with really big Lincoln logs," he said. And when they were done, his cost for reassembling the 58-foot by 36-foot structure stood at only about $50,000.
Replacing the landmark, however, will cost $350,000 because it must be built according to public-use codes and will include an addition to house handicapped-accessible bathrooms and kitchen facilities.
To help with the project, a nonprofit organization called The Barn at Kill Creek Farm Association was formed last year to raise funds for, own and operate the new barn. And since then, Zimmerman has donated $100,000 and loaned another $70,000 to the cause.
In addition, a woman who came to talk to Zimmerman about his honey bees recently ended up writing a $13,000 check for siding. But that leaves a lot of funds to raise. So Zimmerman hopes the community will pitch in at the art festival.
Laughing at the idea of a curse, he said the barn will serve as a place of learning and joyful gatherings for future generations.
"I've already got great-grandchildren," he said, "and I don't want one of my great-great grandchildren to drive down Kill Creek Road someday and say, 'Kill Creek Farm used to sit right there where that Walmart is.'"
More like this story on Lawrence.com