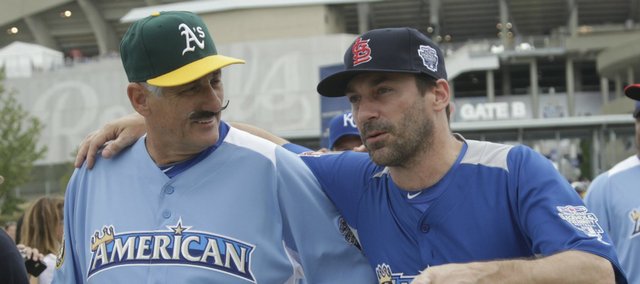 I often forget how fortunate I am to be a photojournalist.
Even if my travels are limited to the Midwest, I still get access to a lot of events and activities that others without the mighty press badge can't witness. My latest privileged coverage was at last weekend's Major League Baseball All-Star and Celebrity Softball Game at Kauffman Stadium in Kansas City, Mo.
My task was to photograph Kansas University men's basketball coach Bill Self, a softball team participant, as he mingled with All-Stars and celebrities before and during the game. Coach Self is certainly a celebrity, but when you throw into the mix baseball Hall of Famers like George Brett and Ozzie Smith and TV stars like Jon Hamm of "Mad Men," you can lose track of your priorities. Yes, journalists get awestruck too.
But I continued my work on the celebrity side of the perimeter tape, squeezing by a hulking Bo Jackson and avoiding the swinging bat of Ricky Henderson, all the while lining up photographs of Self in the middle of it all.
At times I just wanted to stop and be a fan. But while the press credentials gain you access they also circumvent you from getting too star struck. On my press pass it specifically states "no autographs." And just to be clear, that does not mean I can't provide my signature to Bo Jackson, but rather vice-versa.
Of course there are other bonuses to our behind-the-scenes coverage. We do get the occasional gift or free meal courtesy of the credentialing sponsor. Some stuff is pretty great. Staff photographer Nick Krug got a box of hand-rolled cigars while covering the 2008 Orange Bowl. I recall an evening of free food and entertainment inside the Henry Ford Museum in Detroit during a 1988 NCAA Tournament party.
On the other hand, sometimes the access is all we get. My free meal ticket for the All-Star softball game amounted to one cheese pizza and a small soft drink. Oh well. I was close enough to Hall of Famer Rollie Fingers to see the wax on his famous mustache. That's got to be worth something.
The privileged access helps us do our job, and we get plenty close to some mighty interesting people. But at the end of the day, what we hope we're left with is a handful of good photographs from the other side of the celebrity tape to share with readers.
— Chief photographer Mike Yoder can be reached at 832-7141.
More like this story on Lawrence.com