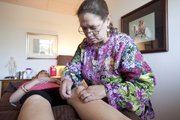 Some of the worst words you'll ever hear from a doctor: "There's nothing we can do."
Sally Deghand heard those words after battling breast cancer for a year and half. She heard them after chemotherapy had flushed out her cancer, but the drugs that had healed her had left her with peripheral neuropathy. Peripheral neuropathy is a disease that can result in tingling, numbing, heightened pain and loss of control.
Chemo had left Deghand's nerves so damaged she could not fasten buttons, could not open ketchup packets, could not grip a pencil to write her own name.
But Deghand heard those words — "there's nothing we can do" — and said, "I want a second opinion."
Her feet feeling as if her shoes were stuffed with gravel, Deghand searched for alternative medical treatments. Her search led her to the office of Gina Halsey, a local acupuncturist at Lawrence Medical Plaza, 1112 Medical Plaza.
"I go to Gina and feel so much better when I leave, and I have lasting results," said Deghand.
Deghand immediately benefited from acupuncture treatments: her pain faded and her dexterity strengthened so that she could control her hands and feet again. After a few consecutive treatments, she had recovered almost fully.
On the surface, this recovery seems miraculous. What makes it more down to earth is the frequency at which these things occur in Halsey's office. Through acupuncture, nutritional guidance and herbology, Halsey has helped patients regain control of nerves and extremities, helped them become pregnant and enabled them to wean off of analgesics by reducing or eliminating pain.
Halsey has been an acupuncturist for 15 years. Her interest in healing and medicine started when she experienced sickness firsthand: she was diagnosed with leukemia when she was 19. Starting chemo the day she was diagnosed, Halsey tried to take control of her own healing through meditation and visualizations. She would imagine cancer cells disintegrating and healthy cells multiplying.
"From the time I was diagnosed, I was really intrigued with healing because I knew I had a really serious illness and that I had to do whatever I could to help myself," said Halsey.
Halsey recovered, giving credit to her oncologists, but she remained interested in healing. This interest led her to study Chinese medicine.
In the United States, acupuncturists must attend a 4-year graduate level accredited program. Halsey attended Yo San University in California, earning a master's degree that emphasized all 5 branches of Chinese medicine: acupuncture, herbology, massage, nutrition and qigong (pronounced chee-gong). She has completed two internships in China, studying with experts and training for more than 6,000 hours.
Halsey often works in conjunction with medical doctors. For instance, she might provide acupuncture treatments for patients with cancer, treating their side effects, but not their disease. She does a lot of work on people with asthma, inner ear or fertility problems.
Halsey has had great success repairing damaged nerves. One such case is that of Tracy Veal, of California. Veal initially became a patient while Halsey was still a student at Yo San.
In 1998, Veal was in a violent car wreck that left her hobbled and disfigured. She had a cut slicing across the right side of her face, from her nose to the corner of her mouth. The injury made it so the right side of her mouth drooped lifelessly, unable to spring up and form a smile.
Veal's Beverly Hills plastic surgeon said her only chance of smiling symmetrically was an intensive surgery involving the transfer of muscles to her face. Halsey wanted to try to do it with acupuncture.
So Halsey brought an acupuncture table to Veal's home (Veal had a broken pelvis and could not travel). And after a series of treatments, Veal's lip lifted.
"Gina worked on me until my smile was absolutely equal on both sides," said Veal. "It's amazing that it happened at all. Not only is Gina smart — she's an expert and knows what she's doing — she's very kind and intuitive about what's going on with the body."
When Halsey treats a patient, she culls as much information as she can about their ailment. During the treatment itself, she uses fresh needles from Japan.
The needles are not hollow like injection needles, which are meant to carry a substance; they are solid and thin, designed to slide in between the tissues.
Veal, who has been receiving acupuncture treatments for more than 15 years, doesn't use the word pain to describe the sensation. Don't think bee sting. Don't think IV injection. Don't think tetanus shot.
Think of a gentle prick, barely detectable, like a splinter slipping in unnoticed. Yet it's not even that painful.
"Some people don't even notice when I put them in, and I have some people fall asleep," said Halsey.
For Deghand, the needles are so painless she usually doesn't notice their presence at all.
"I have never had any kind of mark on me from acupuncture," said Deghand.
"I would recommend Gina all over the place, to anyone who's going to listen to me talk. People who have neuropathy don't have to live that way. I now have my feet and hands normal for the rest of my life. The effects are not temporary. They're permanent. And it definitely works."