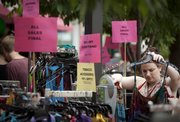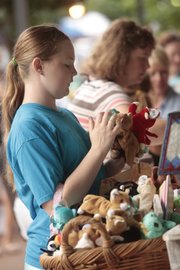 After 20-plus years manning the Downtown Lawrence Sidewalk Sale, Weaver's Department Store Vice President Earl Reineman has a trove of tips for shoppers hunting the bargains he and other merchants are slinging.
For one, he warns, "If your husband doesn't love to shop, leave him at home."
Nothing can suck the fun out of a day at the sidewalk sale like having Debbie Downer as your sidekick, sore feet or — worse — a heat-induced medical problem. The folks at Weaver's, 901 Mass., and other stores have several pointers for enjoying your experience and, of course, for getting great deals at this year's sale, coming Thursday to Massachusetts Street.
Dan Hughes, owner of Sunflower Outdoor and Bike, 804 Mass., said the annual sale is his store's biggest day of the year, not so much in profits but at least in gross sales.
"Our team here has been busy over the last eight weeks or so, looking through all of our inventory that is overstocked and stuff that needs to get out of here," Hughes said. "It's kind of like this slow burn up to the day of, then it's like a chaotic circus."
A few tips to keep in mind:
Go early
The sale runs from sunup to sundown, and most merchants suggest hitting Massachusetts Street before sale items are picked over.
"If you get here early, you're probably going to get your best shot at a bunch of great bargains," Hughes said.
Besides that, he said, it's usually cooler. And early birds who don't have the day off can hit the sale and still get to work on time.
Come back later
That's not to say the early birds get all the worms.
Hughes said Sunflower Bike and a number of other shops — not interested in lugging a bunch of stuff back inside at the end of a long, hot day — mark items down even more toward the end of the sale.
"There are oftentimes some pretty sweet deals to be had at the end of the day," he said.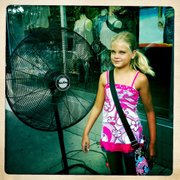 Keep your cool
It's pretty much a given: Sidewalk sale day is going to be steamy.
"Make sure you drink lots of water, and wear sunblock," said Emily Kurtz, a manager at MissFortune's Creation Station, 726 Mass.
Reineman suggested making occasional stops at cooling stations or to order drinks and food inside restaurants.
"Pace yourself," he said. "Take breaks from the shopping someplace cool where you can sit down, get something to drink."
Designated cooling stations, which debuted last year, will be back, said Cathy Hamilton, director of Downtown Lawrence Inc. There will be about five of them, marked by big signs in their respective windows.
Another creature comfort, portable toilets, also will be on hand, planned for the breezeway in the 800 block of Massachusetts Street.
Get off the sidewalk
Men's and women's apparel and plenty of home items will be on the sidewalk outside Weaver's, but go indoors and you'll find many other items marked down especially for sidewalk sale day.
"Don't forget to shop inside the stores," Reineman said. "First of all, it's cool. But second of all, like Weaver's, for example, we have a lot of incredibly great bargains inside."
Same goes for MissFortune's.
"Every year we put every single item in our store on sale," Kurtz said. "We usually don't hold anything back."
Take a load off
MissFortune's will check your parcels while you shop, although Kurtz said that's not the norm for most stores.
"It seems like people end up carrying a lot of stuff around," she said. "I would recommend people get downtown early so that they can park to drop stuff off."
Think outside the season
Winter clothing or decorative items may not seem useful in the mid-July heat, but those are often among items stores want to move off their shelves.
Hughes said Sunflower Bike, for example, usually has wool hats and socks at great prices, even though you can't wear them for a few more months.
"Shoppers … might need to have a special merit badge for being brave enough to try on hats," Hughes laughed.
Do some homework
If you're the type to make a pre-sale game plan, Downtown Lawrence Inc. has been posting updates and deal precedes on its Facebook page. Check out the latest at facebook.com/DowntownLawrence.
Have fun
Wear comfortable shoes, pick good shopping companions and prepare to enjoy the bargains and the crowds, Reineman said.
The merchants will be doing the same.
"We all come early and it's a long day, but it goes by pretty quickly," Reineman said. "It's a lot of fun for us. We look forward to it every year."
— Features reporter Sara Shepherd can be reached at 832-7187. Follow her at Twitter.com/KCSSara.