Photo Gallery
Olympic sculpture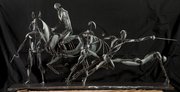 If the pentathlon sounds like a difficult event — athletes compete in five separate events: running, swimming, fencing, shooting and horseback riding — try turning it into art.
"It's definitely a challenge," said Lawrence artist Lori Norwood, who showed off a sculpture depicting the sport recently in her North Lawrence studio. "How do you represent all five?"
Norwood's piece, titled "The All-Around Athlete," will be sent to the London Olympics and displayed at the Olympic headquarters this summer.
If anyone was suited to create a sculpture honoring the century-old pentathlon, it's Norwood.
Still the only American woman to win a world championship in the event, in 1989, Norwood took up the sport — designed to encompass the skills needed to be a successful 19th-century soldier — when she was 15.
An "Army brat," Norwood was involved in numerous sports all her life. One day, someone saw her swimming at a pool and suggested the pentathlon. For the next few years, training and competing were her life.
A Google search of Norwood's name pulls up several features, including a 1990 Sports Illustrated article calling Norwood a "Renaissance Woman."
Norwood retired from the pentathlon in 1991, years before it became a women's Olympic sport in 2000.
After retiring, Norwood went to the University of Texas, earned an art degree and found her second career love: sculpting.
Norwood and her husband, local orthopedic surgeon Doug Stull, moved to Lawrence in 2007 with their two daughters, Isabella, 10, and Evie, 7.
She worked with local sculptor Jim Brothers and painter Louis Copt, to hone her craft, working on commissioned pieces as well as her own artistic creations, displayed at various art events.
When she got the call from the Olympic committee, Norwood said she was given wide latitude to create the sculpture.
"They said, 'Here's the Fed Ex number; send it,'" she said.
Norwood settled on a sculpture she describes as "flowing" and "linear."
It started with miniature clay figurines before Norwood began the furious and intense two-month task of actually creating the sculpture.
The piece is complete, and the crate's ready for shipping, Norwood said with relief.
She wasn't able to give an estimate of how many hours it took to complete the work.
"I've been thinking about it for a long time," she said.