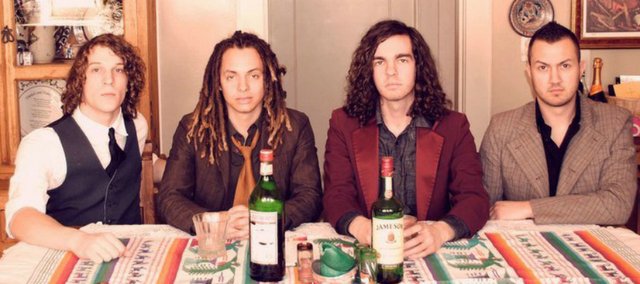 As far as the guys in Kansas City's Making Movies are concerned, what they're actually saying is secondary to how they say it. The Latin music-meets-indie-rock fusion four piece not only infuse two seemingly different genres, they sing in both English and Spanish.
Past Event
Friday, July 27, 2012, 10 p.m.
Jazzhaus, 926 1/2 Mass., Lawrence
Not available / $5
Their name is taken from a Dire Straits album, which made an early impression on singer and guitarist Enrique Chi.
"I remember being a kid in Panama and there was a hit song from Dire Straits that didn't have 'making movies' in the title, but it was one of my first memories period, and one of my first memories of loving music. And I didn't speak English, but I remember singing along. I didn't really know what I was mumbling or saying, but it stuck with me," Chi said. "Music connected with me, with or without understanding what was being said."
That early realization that language is no barrier for good music has pushed Chi and his band mates throughout their relatively young career. They'll bring their Latino rhythms and indie rock stylings to the Jazzhaus July 27 for a set almost as non-traditional as their musical pairings. Not only will they play the usual, songs-from-the-new record set, but they'll throw in some earlier favorites as well as a tribute to Latin music titan Carlos Santana.
"We'll actually do three sets that night, so we'll do a lot of the catalog. And we're gonna do a set of Santana stuff that we just got done doing in Kansas City (for a Santana birthday celebration), so that will be fresh in our minds and should be kind of fun," Chi said. "It'll be some rock and a little more mellow stuff, but by the end it will be full-blown dancing. It should be kind of a different show for us at the Jazzhaus."
The new songs will be from their upcoming album, produced by Steve Berlin of Los Lobos. Making Movies opened for Berlin's band last year and made an immediate impression. They were invited to join them for a jam during the band's encore. That led to an invitation to work together in the studio.
"After that gig, Steve Berlin, who had produced a lot of their (Los Lobos) records over the years said 'Can I produce your next record?' And of course we said yes," Chi said.
Due for release later this year, the record is a big step in the band's evolution, due in large part to Berlin's influence. Unlike many "celebrity producers," who step in every now and then to make sure things are going smooth, Berlin was there from beginning to end, making sure the band was making the best album it could.
"We were nervous at first. Up until this point, our recording experiences were pretty amateur. We made a record and it sounded pretty good, but our buddy was the engineer and there wasn't this kind of pressure," Chi said. "So, we were nervous, but Steve was amazing to work with. He was with us, every take, every second that music was being made. Both physically and mentally. More so sometimes than us as band members. Every time some little thing was added, he was mentally focused, to make sure that is this the right thing, does it feel right, even if it's just a little glockenspiel touch to a chorus, in the background."
The record features the band's signature touches, but expands a bit sonically. Chi admits that the band is often quick to self edit, taking out some of the "jammier, more experimental" elements of their songs during the recording process. But Berlin challenged them to embrace those elements and the results were songs that are longer than their usual output in many cases, but having been recorded live in studio, captured the moments of the band at their best, playing off of each other.
In many ways, the record is a reflection of the band's evolution. As they are becoming more comfortable in their own skin, Kansas City and the surrounding area is slowly but surely becoming more accepting of a band that doesn't fit into a traditional mold. The band has worked for several years to establish a foothold in KC, and has also gained traction in cities with a more established Latino scene such as Chicago and throughout California.
"One by one, door to door it feels like," Chi said of establishing themselves. "It took us a long time in Kansas City to get the ball rolling. But once we did, it ended up working in our favor, because we're kind of the only thing going in that Latino genre. That's why we've played Kansas City so much this year. We're being asked to play all these really cool events that draw all these people. So we do that and expose our music as much as we can locally before we put out this new album."
While Making Movies – Chi, percussionist Juan Carlos Chaurand, drummer Brendan Culp and bassist Nick Kolar – continue touring and building their audience, Chi continues writing in both Spanish and English, whichever feels right.
"It's never conscious. I write whatever comes out of me," Chi said. "I've been bilingual since I was six years old, so it's pretty easy for me to go back and forth. That's just the language in which I'll write the song. I do experiment sometimes with songs that I thought would work in English, then I'll cut the English lyrics and change to Spanish and see if it's better and vice versa. The only challenge I find with it is I speak English more often, so my brain is more often in that mode. So I'm more often writing English songs than I am Spanish songs."
But whether the audience speaks Spanish, English or neither, Making Movies is confident it can make 'em move.
"I think anybody who is a music lover can agree that if music's done well, it doesn't matter if you can understand the lyrics, or have even heard that genre before. I think if it's done excellently, you can appreciate it," Chi said. "That's the challenge for us, getting to play in front of people who wouldn't normally show up for a Latino music event. But once they get the opportunity, we have a pretty good shot at winning them, which is the nice part."
More like this story on Lawrence.com