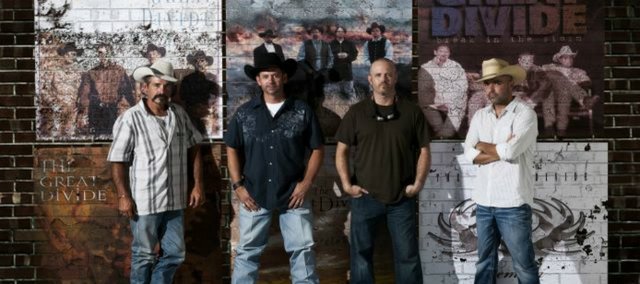 When the Great Divide reunited with original singer Mike McClure in Stillwater, Okla., last August, it had been nearly eight years since McClure had fronted the long-running red dirt country act. While he'd played some Great Divide songs as part of his solo act, the Mike McClure band, the singer says there's still something a bit different about performing with those that wrote and recorded them in the first place.
Past Event
Friday, July 27, 2012, 9 p.m.
Granada, 1020 Mass., Lawrence
All ages / $20
"It's revisiting a time in your life – a lot of people in the crowd come up and tell me they used to listen to that music growing up and, well … I did, too," McClure says. "So, well, I like going back to it. As an artist, you want to keep growing, doing different things, but it's nice to be able to go back to something like that. Not having to do it every night keeps it fresh."
The band's return at the College Days festival was a resounding success, McClure says.
"Well, the first one, in Stillwater, had 8,00 people at it. It's been really great. A lotta people – we live in their college memories."
Those college memories were passed down from sibling to sibling, it seems, with much of the band's crowds consisting both of fans who used to see Great Divide back when, as well as those who grew up just a bit too young to have caught the band live the first go-around.
"They were people that grew up, (with) like, their older brothers or something listened to our band. They were never old enough to get into a bar and see us play. Kind of a whole new crop," says McClure. "They never thought they'd get to see that band live. They come and bring their kids or whatever. It's like a family affair with alcohol – a Catholic family affair."
Those that come are getting a full picture of the Great Divide catalog. While the band might dip only slightly into their first album, "Goin' For Broke" – "Sometimes we'll pull one out. Sometimes not," McClure warns – the rest of the discography is ripe for the picking, although the greatest focus is on their most popular.
"We kind of do a little bit from each year, actually," says McClure, "But mainly just "Break In the Storm," which came out in '98: "Pour Me A Vacation," "Never Could." And then, "Revolution," which had "College Days" and "Yesterday Road" – all that."
While this summer is fairly well full with touring for the Great Divide, don't expect to see the quartet return to their road warrior ways. That's long past. While McClure and his musical cohorts appreciate those who come out, and intend to continue playing one or two shows a month, "as long as everybody continues enjoying it."
Touring full-time, however, is not in the cards, McClure continues: "I wouldn't want to climb back on the bus and be gone constantly. This is the first tour I've been out on in a while where I've been gone a couple weeks. I don't think any of us are into traveling that much anymore, now that we're all older, with families."
When asked if it's family and kids and whatnot that keeps his travels short, McClure chuckles.
"Yeah. I have three whatnots. I like hanging out with them at home while I can. They'll be out of the house before too long. I'm not going to go traveling again."
However, for those that might not make it out to see the Great Divide when they play the Granada this Friday, fear not. The band is looking to take recordings from last year's reunion show and release it as an album, complete with bonus material, so while you might not be able to experience them in person with the frequency you might have had in the '90s, you can still take a little bit of it with you.
More like this story on Lawrence.com