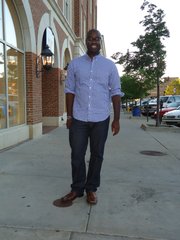 Name: George Mavungu
Age: 31
Relationship status: Single
Hometown: Olathe
Time in Lawrence: Just today
Occupation: Marketing manager
Dream job: Marketing for a creative, innovative company in New York City
What were you doing when scouted? Just left the Gap
Describe your style: Business casual with a lot of funky glasses
Fashion trends you love: I'm really into camo; I just bought a camo tie. Really interesting wallets, like Dosh wallets. And "out there" glasses.
Fashion trends you hate: UGG boots and Crocs

Fashion influences: Nick Wooster. He's from Salina, and he's the head of the men's clothing for Neiman Marcus. Also, Ozwald Boateng.
What would you like to see more of in Lawrence? Hookah bars and boutiques.
Less of? Chain businesses
Tattoos or piercings? None
Who do people say you look like? The love child of Carlton Banks and Irv Gotti.
Tell us a secret… I want to move to New York City within the year. Also, check out byappointmentonly.tumblr.com.
Clothing Details: Shoes, Aldo, five years ago, $80; jeans, H&M, December 2011, $30 with a sweet discount; glasses, In God We Trust (New York City), two years ago, $80; shirt, J.Crew, one year ago, $40.