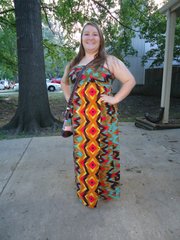 Name: Sophie Archuleta
Age: 23
Relationship status: Single
Hometown: Medicine Lodge
Time in Lawrence: Five years
Occupation: Diabetes care coordinator
Dream job: No specific job. Just something that makes me happy and benefits others.
What were you doing when scouted? Meeting up with friends to go downtown
Describe your style: Eclectic. I wear what makes me feel comfortable whether it's in style or not.
Fashion trends you love: Maxi dresses, obviously. Large sun hats. Mustaches.

Fashion trends you hate: Fringe on anything.

Fashion influences: Magazines and a lack of money.
What would you like to see more of in Lawrence? Giant mustaches
Less of? Crop tops
Tattoos or piercings? Four tattoos
Who do people say you look like? "Someone I went to high school with."
Tell us a secret… I haven't cut my hair in two years.