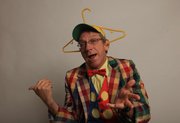 If Richard Renner were to craft a resume, under skill summary would be the following: juggling, pantomime, unicycling, rope-walking, stilt-walking and acrobatics.
As the Vodvill Klown, Renner does a one-man show at fairs and festivals peppered throughout the country. It's an act he's polished over a 30-year career.
And he has always had to generate his own success because there aren't a lot of companies that advertise for clowns. The upshot is that not many people specialize in prat falls either, making Renner a valuable commodity whenever a circus act is needed.
The question you can't help but ask after seeing a 55-year old man don a clown nose — or better yet, a dress, a wig and pair of bifocals and then totter about on a pair of stilts — is, how exactly does one become a clown?
• You like vaudeville. Charlie Chaplin. W.C. Fields. Dick Van Dyke. Red Skelton. These are your influences. You admire them, you watch them relentlessly, and you imitate them to make your mom laugh.
• You develop an early interest in acting, then chase that interest in college by making it your major.
• You graduate college and undergo an existential crisis when you realize that, damn, everyone wants to be an actor.
• You say the heck with it and give it go by doing your own thing. You accumulate skills: Juggling. Unicycling. Mime. You train yourself to be the funny man. You don't just become the person people gravitate to at parties. You become the person they pay to be there.
"Since I learned to juggle, I felt immensely confident in just about everything," Renner said. "All these useless skills they don't teach you how to get a job with, I started doing. People ask me, how did you learn all of this? And I tell them by hanging out with the wrong people. Unemployed performers, in other words."
Renner started picking up skills and gigs in the 1980s, when the New Vaudeville movement revived circus acts by giving them a modern twist. New Vaudeville performers scrapped the makeup (Renner wears a clown nose, on occasion, but never makeup, relying on the physical stunts he does to generate laughter), but kept the creativity.
The New Vaudeville movement was so big in the '80s, Renner was overwhelmed with performance requests. So overwhelmed he created his own talent company, linking people to performers for a fee.
The Vodvill Entertainment Company is a talent agency that specializes in unique people with useless skills: fire eating, sword swallowing, juggling and magic.
It's these same sort of performers that Renner rallies each year for Lawrence Busker Festival, a street performing festival he organizes downtown every year, set this year for Aug. 24-26. Renner got the idea for it after shuffling down Mass. Street and becoming depressed by the panhandlers: there was a girl shaking some maracas and a couple of scruffy looking men strumming guitars. Not exactly a must-see.
According to Renner, the difference between a street performer and a panhandler is easy: a true street performer will attract several hundred people. With this in mind, Renner thought, Let's do that. Let's get the real street performers out here and please the crowd.
For a few years, Renner organized Busker Fest without netting a penny.
"When I got started in this, it was never for the money," said Renner. "My favorite moments usually happen in the middle of Saturday at the Busker Fest and … I see all these people everywhere … and they all have a program in their hand and they're saying, 'Let's go do this, let's go do that,' and I see these big crowds at the shows, and it's usually at that moment that I say, 'Yeah, I'm going to do this again.'"
Seven years ago at the Smoky Hill River Festival in Salina, Renner felt an encouraging moment in his own performing career. It was a rainy day in June and Renner was mentally recovering from a divorce that had finalized the month before. He was feeling vulnerable in every way. But he was still performing.
That day he was doing his one-man act in a tent when a downpour started. People started to dart inside to avoid getting wet.
"Everyone came in to see me, whether they wanted to or not," Renner said. "I knew I had a bigger job to do to reach out to all those people from my little spot on the stage. I don't know what happened, but everything I did worked out perfectly. Every movement I made, every noise I made, they got. They laughed. And at the end I felt like my heart was just blown open because of their reaction.
"I didn't know what was going on in my life but … the only times I've ever felt like I've known what I was doing is when I was performing. Everything else has just been improvisation."