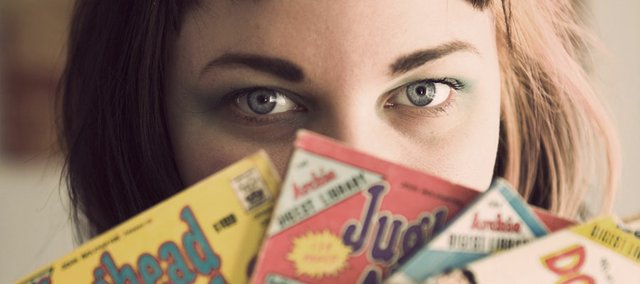 Katlyn Conroy played her first show at the Granada when she was 15. Having grown up in Lawrence, she attracted a lot of friends and family — more than 300 people, she remembers — the exciting high school attraction that night.
"I thought every show would be like that," she says now with a laugh.
It wasn't. But it's safe to say she was hooked.
In the years since then, she's had to put a lot of work into building a fan base, developing her voice, writing music and teaching herself to play. But now she's about to embark on her first solo national tour and things are looking just about as exciting as they did looking into the crowd at that very first show.
Conroy says she was 5 when she saw a production of "Les Miserables" on public television and decided she, somehow, wanted to make her life and career as a singer. At 12, she decided it wouldn't be theater, it'd be in a band. In her 20s now, she's worked with several Lawrence bands — including Another Holiday and Hospital Ships — and is fresh back from a tour with Cowboy Indian Bear. In 2009, she won KJHK's battle of the bands as Katlyn Conroy and the Wild and Wooly.
Her current solo project is called La Guerre, French for "the war," and represents a new stage in her career. She's still playing keys and keeping things simple as an emotional indie singer-songwriter, still playing with long-time boyfriend Chris Waggoner, but her songwriting is more mature, she says, and her experimentation more vocally driven.
La Guerre is the name of a choir piece Conroy sang in school, complete with reacted battle sounds. Conroy's La Guerre is about the inner battles, the dramatic, personal turmoil that she turns into sweeping vocal landscapes in her songs. It's an old style of romanticism, updated with colorful, melodic indie arrangement.
"I'm just very passionate, as a person," she says. "I love the idea of love."
Bright Eyes inspired her as a teenager and St. Vincent as a burgeoning female solo act. Establishing herself in and outside the Lawrence music scene as a working artist, she says she's got help from her friends. Cowboy Indian Bear, she says, set off with a two-year business plan and the aim of building fanbase across the Midwest.
"To be the biggest band in Lawrence is great," she says, "but it can also not really mean anything. You've got to reach out to other markets."
Conroy starts her first tour, which she's calling "Southern Projections," on June 6 at the Bottleneck with CS Luxum and recording collaborators Spirit is the Spirit. From there, it's Kansas City, Columbia, St. Louis and onto the south, with dates in Georgia, Alabama and Tennessee. She'll also put out her first solo full-length on The Record Machine before the end of the year.
She's working hard whittling down her song selection for that release and 2012 is shaping up, already, to be a great time for her.
"It's the best year musically I've had," she says.
Now she just has to keep the momentum going. And enjoy the thrill of looking out into the crowd.