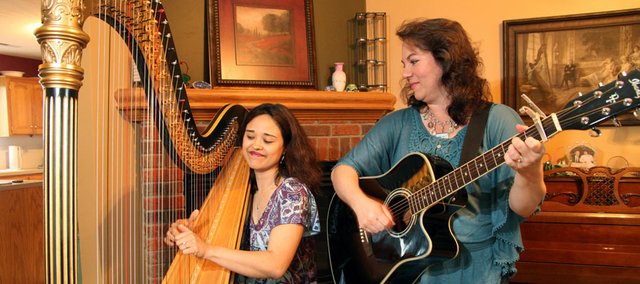 Misty Dawn Warren and Beth LePage had a decision to make.
Their new bluegrass/gospel duo, Angel Road, had booked its first official gig at Annie's Country Jubilee in Tonganoxie. But they weren't sure what reaction Warren's primary instrument, the harp, would get from music fans who are more accustomed to banjos, guitars and mandolins.
"We were debating: Do we take the harp?" LePage recalls.
In the end, they took a chance with the harp. Now, two years later, they are glad they did.
Lawrence-based Angel Road is preparing to cut its second CD, and its members are hoping to expand the group's outreach in what they consider a Christian ministry.
"We definitely want to make the gospel clear, and sing songs that exalt the name of God and draw people to him," says LePage, who home-schools her six children.
The harp has become a gateway for that.
Warren, who teaches harp lessons and performs at a variety of events, says the instrument's wide tonal range means it can sound like a high-pitched solo instrument — such as a mandolin — while also laying down the bass line.
"It seems to lend itself well to bluegrass," Warren says. "It's very versatile."
With LePage playing alongside on guitar, the harp has become a focal point for the duo.
"There are a lot of angel jokes I hear," Warren says. "People walk in and ask, 'Am I in heaven?'"
Warren and LePage met several years ago while performing with the worship team at Community Bible Church, where LePage's husband, Shaun, is pastor.
"We had a mutual love for the country and bluegrass style of music," LePage says. They decided to pair up on a musical project and won their division at the Kansas State Fiddling and Picking Championships in 2008.
Both women began performing music early in their lives. LePage started playing guitar at age 10, and soon after joined her grandfather's country band, which was based in Joplin, Mo. Five years later, she joined a gospel group.
Warren, meanwhile, started playing ukulele at age 5 and performed with her sister at nursing homes in and near Liberty, Mo. She started harp at age 10 and eventually attended the Interlochen Arts Academy in Michigan and the University of Arizona, where she received her bachelor's of music in harp performance.
With Angel Road, Warren and LePage say they are simply trying to spread the love of God through uplifting music. They distribute their CDs for free, and any money earned from donations at performances goes back into future recordings.
So far, most of their performances have been at churches, though they have booked performances for July 22 at Signs of Life, 722 Mass.; Sept. 18 at the Lawrence Arts Center, 940 N.H.; and Oct. 20 at the Gospel Music Heritage Association in Edgerton, Mo.
"I was very taken by the harmony and talent of these young ladies," says the Rev. Buster Roper, who books acts for the association. "I find their music to be very upbeat."
And the harp?
"I did find it unusual, as I do a lot of work with various music groups," Roper says. "I had never encountered that before, but I found it very appealing."
Angel Road's first CD, "Follow the Leader," consisted of cover songs. Warren has been busy the past year writing original music for the duo, and their upcoming album, "Sit at the Feet of Jesus," will be a mix of new music with traditional favorites. It is due out later this summer.
Both women hope the music is as positive for their audiences as it has been in their own lives.
"One of the main pieces of feedback we get is our music is encouraging and uplifting," Warren says. "We want to play joy-filled music and will bless their hearts."