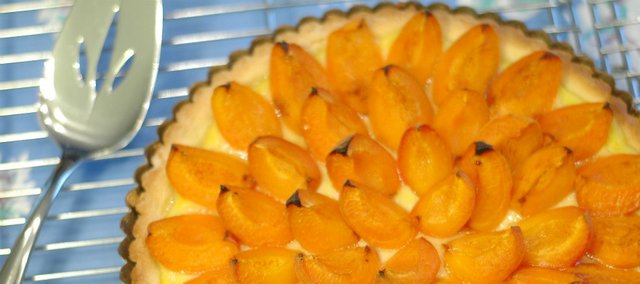 Each year in early summer, apricot season arrives, and imported varieties of the sweet-tart smaller cousins of the peach can be found at many area grocery stores.
But it's not every year that apricot season arrives in Kansas.
Because of late frosts, Kansas apricot trees often don't produce fruit at all. This year was different, at least for Stony Ridge Farms in McLouth. Owner Debbie Antes said her apricot trees might go more than five years without any fruit but that this year's mild winter produced different results.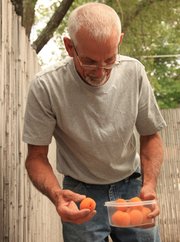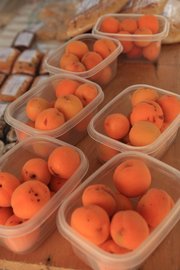 Antes unloaded boxes of apricots last week at Cottin's Hardware Farmers Market expecting them to go fast.
A week earlier, the first time this season she brought apricots to the market, she sold out of more than 30 pounds in less than half an hour.
All about apricots
When selecting apricots, look for fruit that's bright orange in color and yields to gentle pressure, the national Centers for Disease Control and Prevention suggests. Store ripe apricots, unwashed, in a paper or plastic bag in the refrigerator up to two days. To help ripen hard apricots, place them in a paper bag with an apple on the counter for up to two days.
According to the California Fresh Apricot Council, apricots are high in vitamins A and C, and also provide potassium, iron, calcium, phosphorus and fiber.
With about 95 percent of all apricots in the United States are grown in California, where Spanish explorers first planted them in missions all over the state hundreds of years ago, "It's not something you have every year in Kansas," Antes said.
Plenty of delicious recipes call for dried apricots. But during the brief season when fresh ones are available, they're the obvious choice whether local or imported.
A fresh apricot is a delicious snack on its own, but the early-summer beauties also lend great flavor — and color — to meats, salads and, of course, desserts.
APRICOT ALMOND CREAM TART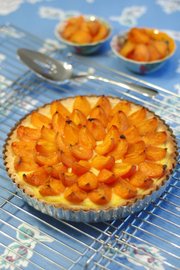 Start to finish: 4 hours 30 minutes (45 minutes active)
Servings: Makes one 12-inch tart
Tart shell
3 tablespoons almond paste
1/4 cup sugar
1/2 teaspoon salt
1 stick unsalted butter, softened
2 cups all-purpose flour
1 large egg, lightly beaten
1/3 cup milk
Filling
1 1/3 cups milk
1/3 cup sugar
2 large eggs
½ teaspoon almond extract
½ teaspoon vanilla extract
2 tablespoons cornstarch
3 pounds apricots, pitted and quartered
In a standing mixer fitted with the paddle, blend almond paste, sugar and salt with 3 tablespoons of the butter at medium speed until smooth. Beat in remaining butter. Add flour and beat at low speed until just combined, then beat in the egg and milk. Scrape dough onto a piece of plastic wrap and flatten into a disk. Wrap tightly and refrigerate for 2 hours, until very firm.
Preheat the oven to 350 F. On a floured work surface, roll dough into a 14-inch round, 1/4 inch thick; transfer to a 12-inch fluted tart pan with a removable bottom, pressing over the bottom and up the sides without stretching. Trim excess dough. Freeze shell for 15 minutes.
Line shell with foil (making sure foil also covers edge of crust) and fill with pie weights or dried beans. Bake for 50 minutes, until pastry is golden and cooked through. Transfer the tart shell to a rack; let cool.
Fill a large bowl with ice water. Set aside.
In a small bowl, whisk eggs with almond and vanilla extracts, cornstarch and half the sugar until smooth. Set aside.
In a medium saucepan, combine milk with remaining sugar. Bring to a simmer over moderate heat, stirring. Whisk in egg mixture and bring to a boil over moderate heat, whisking constantly, until the pastry cream is thickened, about 3 minutes; scrape into a stainless steel bowl. Set the bowl in the ice bath and let stand, stirring often, until the pastry cream has cooled completely.
Spread pastry cream in the shell in an even layer. Arrange apricot quarters in partially overlapping concentric circles atop the cream, working from the outside in. Bake 45 minutes, until apricots are tender. Let cool slightly. Unmold the tart, cut into wedges and serve warm or at room temperature.
(Recipe adapted from chef Michel Keller's Apricot-and-Blueberry Tart, as listed at foodandwine.com)
FRESH APRICOT DESSERT TOPPING
Servings: 6
2 cups sliced fresh apricots (about 12 ounces)
1 tablespoon granulated sugar
2 tablespoons apricot nectar or orange Muscat dessert wine
Mix together apricots, sugar and nectar; set aside.
Top shortcake, pound cake, ice cream, frozen yogurt, etc.
(Recipe from califapricot.com)
APRICOT-BLACKBERRY PUFF PASTRY TART
Fresh fruit belies the fact that this tart's buttery puff-pastry crust is store-bought, making it a treat to prepare and eat.
Servings: 9
1 sheet frozen puff pastry (one 14 ounce package), preferably Dufour, thawed
All-purpose flour, for surface
3/4 cup ground toasted walnuts
3 tablespoons light-brown sugar
2 tablespoons cornstarch
Salt
1 large egg, beaten for egg wash
4 apricots, pitted and each cut into 8 wedges
12 ounces fresh blackberries (about 2 to 3 cups)
1/4 cup granulated sugar
Preheat oven to 425 F. Roll out pastry to a 13-by-15-inch rectangle on a lightly floured surface; trim edges with a knife. Transfer to a baking sheet; freeze for at least 30 minutes or overnight.
Combine walnuts, brown sugar, cornstarch and 1/4 teaspoon salt. Brush pastry with egg wash, avoiding edges so that egg doesn't drip over sides. Score a line around edge of pastry using a knife to create a 3/4-inch border (do not cut all the way through). Cover center with walnut mixture. Arrange apricots and blackberries on top. Sprinkle with granulated sugar.
Bake for 10 minutes. Reduce oven temperature to 400 degrees. Bake until pastry is golden brown and fruit is soft, about 30 minutes more. Let cool.
Tart can be refrigerated for up to 2 hours before serving.
(Recipe from marthastewart.com)
STONE FRUIT SLAW
Serve this succulent slaw as a side or condiment for grilled chicken or pork. Use slightly underripe fruits, which julienne better than soft, juicy ones.
Servings: 4-6
1 tablespoon grated peeled fresh ginger
1 tablespoon unseasoned rice vinegar
1 tablespoon vegetable oil
2 teaspoons (packed) light brown sugar
1/4 teaspoon curry powder
1/8 teaspoon crushed red pepper flakes
1 1/2 pounds assorted firm stone fruit (about 5; such as plums, nectarines, peaches or apricots), julienned
2 scallions, thinly sliced diagonally
Kosher salt and freshly ground black pepper
Whisk first 6 ingredients in a medium bowl. Add fruit and scallions; toss gently to coat. Season to taste with salt and pepper.
(Recipe from bonappetit.com)
APRICOT PASTA SALAD
Servings: 4
4 ounces fusilli (corkscrew) pasta
6 fresh apricots (3/4 pound), cut into quarters
1 whole chicken breast, cooked and shredded
2 small zucchini (1/2 pound), julienned
1 red bell pepper, julienned
1 tablespoon fresh basil, chopped (or 2 teaspoons dried)
1 recipe Apricot Basil Dressing (below)
Cook pasta as package directs; drain and let cool.
Combine pasta, apricots, chicken, zucchini, red pepper and basil in bowl. Toss with dressing.
APRICOT BASIL DRESSING
Servings: Makes 1 cup
2 fresh apricots, pitted
2 tablespoons white wine vinegar
1 tablespoon sugar
¼ cup vegetable oil
1 tablespoon fresh basil, chopped (or 1 teaspoon dried)
Place apricots, vinegar and sugar in blender. Whirl until blended.
With blender running, slowly add the vegetable oil until thick and smooth. Stir in basil.
(Recipe from califapricot.com)
PORK, APRICOT AND RED-ONION KEBABS
Start to finish: 35 minutes
Servings: 4
Vegetable oil, for grates
1/4 cup apricot jam
1/8 teaspoon cayenne pepper
Coarse salt and ground pepper
1 pork tenderloin (about 1 pound), cut into 20 cubes (each 1 inch)
8 apricots (about 1 pound), pitted and quartered
1 small red onion, cut into 2-inch wedges, layers separated
Heat grill to medium; lightly oil grates. Soak four 12-inch wooden skewers in a shallow dish of water for 15 minutes (or use metal ones).
Make basting sauce: In a small saucepan, heat jam, cayenne, and 1 tablespoon water over medium-low until jam is liquefied; season with salt and pepper.
Onto each skewer, alternately thread 5 pieces of pork with 8 of apricot and 4 of onion, beginning and ending with pork. Grill kebabs, turning occasionally and brushing with basting sauce, until pork is cooked through and apricots begin to char, 12 to 14 minutes.
(Recipe from marthastewart.com)
ROAST PORK WITH APRICOT AND SHALLOT STUFFING
Start to finish: 1 hour 30 minutes (30 minutes active)
Servings: 8
4 slices firm white sandwich bread
1/2 cup chopped shallots (3 large)
2 tablespoons unsalted butter
1/2 pound firm-ripe apricots (3 large), cut into 1/3-inch pieces
2 tablespoons chopped fresh flat-leaf parsley
1/2 teaspoon salt
1/4 teaspoon black pepper
1 (3- to 3 1/2-pound) center-cut boneless pork loin roast (3 1/2 inches in diameter), not tied
2 tablespoons vegetable oil
1/2 cup water
Preheat oven to 375 F.
Make stuffing:
Cut just enough bread into 1/3-inch pieces to measure 1 cup and spread evenly in a shallow baking pan. Toast bread in middle of oven, stirring occasionally, until golden, about 10 minutes, then transfer to a bowl. Leave oven on (for pork).
Cook shallots in butter in a large nonstick skillet over moderately low heat, stirring occasionally, until softened, about 10 minutes. Add apricots and cook, stirring, until slightly softened, about 3 minutes. Remove from heat and stir in bread, parsley, salt, and pepper.
Stuff and roast pork:
Make a hole for stuffing that runs lengthwise through pork loin: Beginning in middle of 1 end of roast, insert a sharp long thin knife lengthwise toward center of loin, then repeat at opposite end of loin to complete incision running through middle.
Open up incision with your fingers, working from both ends, to create a 1 1/2-inch-wide opening, then pack with all of stuffing, pushing from both ends toward center.
Pat pork dry and season well with salt and pepper.
Heat oil in a 12-inch heavy skillet over high heat until very hot and just smoking, then brown pork on all sides, about 2 minutes. Transfer to a roasting pan and roast in middle of oven until a meat thermometer inserted diagonally 2 inches into meat (avoid stuffing) registers 160 F, 45 to 50 minutes. Transfer to a cutting board and let stand 20 minutes.
While loin is standing, straddle roasting pan across 2 burners. Add 1/2 cup water and deglaze pan by boiling over moderate heat, scraping up brown bits.
Slice meat and serve with sauce.
(Recipe from June 2002 issue of Gourmet, as listed at epicurious.com)
— Features reporter Sara Shepherd can be reached at 832-7187. Follow her on Twitter at Twitter.com/KCSSara.
More like this story on Lawrence.com