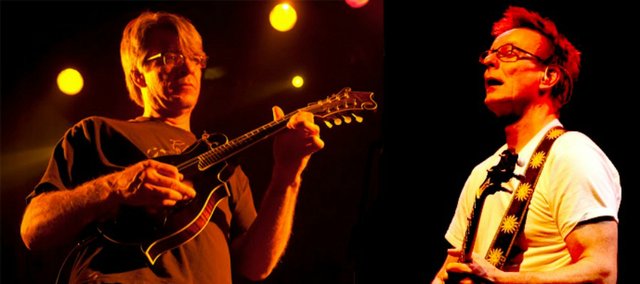 It's not exactly an even split.
Wayne Gottstine, known largely for his mandolin work in bluegrass-on-speed band Split Lip Rayfield, is teaming up this summer with Danny Barnes, innovative banjo player of Bad Livers and a long solo career. Together they'll be recording and playing under the moniker Split Livers, picking tunes from Split Rayfield and Bad Livers' respective catalog along with new compositions and whatever else feels right at the time.
Past Event
Saturday, June 9, 2012, 7 p.m.
Bottleneck, 737 New Hampshire, Lawrence
Not available
"We're gonna play stuff from the old catalogs and some new. We'll do some of our bands' songs, and we'll do some solo stuff. We both have tons and tons of stuff to play. I guess we're gonna play whatever moves the crowd," Gottstine said of plans for a string of shows the duo will play this summer.
Both have been moving the same crowds for nearly two decades. Gottstine first became familiar with Barnes after opening his band in Kansas City in the early '90s. Before that he'd been listening to Bad Livers songs with friends.
"I just had a lot of friends that listened to (Bad Livers), and I listened to a bunch of those songs, and always been impressed with his playing and songwriting. It's been a big influence," Gottstine said. "When he asked if I wanted to do the project, I was like 'of course. Let's get it going.'"
The new project is hardly a hiatus for either Gottstine or Split Lip Rayfield. The trio still has shows booked through the summer. The Split Livers will play "a little lightning strike of shows," Gottstine said, in Houston, Austin, Wichita, Lawrence (June 9 at the Bottleneck with Truckstop Honeymoon and Olassa), St. Louis, Rock Island, Ill and Chicago. They hit the studio in Barnes' adopted home state of Washington last month to record some new tracks.
Unlike the set lists for the upcoming shows, the recordings will be all new material, not culled from their respective back catalogs. Both had written songs prior to going into the studio, and said they'll see what happens in the way of new songs once they start putting music to tape. Both Barnes and Gottstine play guitar, but the former will likely play banjo while the latter will primarily be on guitar. They're not limiting themselves however.
"I'll probably play mostly guitar and he'll play banjo, but we'll do some switching around and I'll probably play some mandolin and who knows what we'll get," Gottstine said.
Until the songs are finished, it's anybody's call what the outcome might be. Both musicians have made names for themselves in taking venerable, traditional genres such as country and bluegrass and infusing them with elements of everything from jazz, punk, straight up rock and roll and even touches of metal.
Split Lip Rayfield has been torching strings of guitars, banjos, mandolins and a customized one-string bass fashioned from a gas tank for more than a decade. The Bad Livers got their start as an alt-country outfit in Austin in 1990, before "alt-country" became a buzz word in musical circles. Barnes' banjo work is both traditional and innovative, and his playing has drawn the attention of such well-known collaborators as Bela Fleck, Yonder Mountain String Band, Robert Earl Keen, Lyle Lovett and members of Butthole Surfers and Dead Kennedys. He played on Dave Matthews Band's 2009 record "Big Whiskey and the GrooGrux King" as well.
That collaboration and Barnes' solo work impressed Matthews enough to proclaim, "Danny Barnes' 'Pizza Box' is my favorite new record, my favorite rock record, and my favorite country record. The music is smart and soulful, and the lyrics are profound. It is Heaven and Earth, it is Americana from the back porch to the pulpit."
Not to be outdone, Gottstine is also working on a solo album he expects to be finished in the next few months. Neither musician is afraid of a busy schedule, intending to stick with their solo careers and bands. Naturally, they are leaving the door open for future output from The Split Livers dynamic as well.
"Oh certainly," Gottstine said of the possibility for future collaboration. "If it goes well, I'm always willing to do more. I'm just looking forward to this project, trying to keep one thing at a time going on. Yeah, if it's successful and we have a lot of fun, I'm certain we'll do this again."
While it's not exactly certain what will happen when they bring their respective musical chops together, It looks like there is no split on this horizon.
More like this story on Lawrence.com