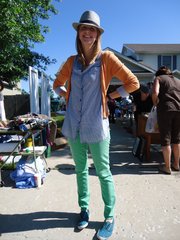 Name: Pamela Brown
Age: 30
Relationship status: Married
Hometown: Midwestern floater
Time in Lawrence: Three-plus years
Occupation: Kids director at Eastlake Community Church
Dream job: I got it.
What were you doing when scouted? Selling my stuff at a garage sale
Describe your style: Tattoos and J. Crew
Fashion trends you love: I love the combination of pastels and neon.
Fashion trends you hate: Ones that aren't easily accessible to the masses
Fashion influences: Jenné Lombardo
What would you like to see more of in Lawrence? People get really nervous to be bold in the Midwest. I like to see more people making some bold fashion choices. We're good at hippie and hipster. We need more bold.
Less of? UGGS and short shorts. Please make it stop.
Tattoos or piercings? Yes! I have a big shoulder/quarter sleeve tattoo that I got done at Ichiban. Martin is the best! I also have my nose pierced.
Who do people say you look like? Anna Faris. She's awkward and funny, but I don't think I'm quite as funny.
Tell us a secret… I used to be a piercing apprentice.
More like this story on Lawrence.com