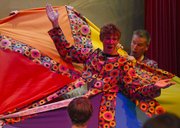 There's nothing about Theatre Lawrence's "Joseph and the Amazing Technicolor Dreamcoat" to keep you on the edge of your seat.
It's a story we already know: Joseph, betrayed by his brothers, enslaved, rises to power and comes to save many lives, including the brothers that betrayed him. As the Chorus reassures Joseph and the audience, "We've read the book and you come out on top."
What this musical strives for instead is to Americanize that story. It sets it to rhyme, paints it gold, puts Elvis in it. There are cowboys.
There is disco. There are supersized Starbucks drinks. And, perhaps most importantly, the play's music can be easily clapped to. For a production to pull this off, it must charm your pants off. And for the most part — and at times even in spite of itself — Theatre Lawrence's show does just that.
Ticket info
"Joseph and the Amazing Technicolor Dreamcoat" runs June 13, 14, 15, 16, 20, 21, 22, and 23 at 7:30 p.m. and June 10, 17, and 24 at 2:30 p.m. Tickets for adults are $19.99 on Thursdays and Sundays and $20.99 on Fridays and Saturdays.
That is not to say there aren't any screws loose in this behemoth of a show. The musical trundles over some early cues, some late cues, some prop issues, and a few desynchronized routines. With a 35-person cast, all of them on stage at times, a few are bound to be off the beat. But more likely than not, mistakes prove endearing — especially when the motley 11-man gang of Joseph's brothers is onstage, a group of guys ranging in age from 15 to about 50. A little roughness comes easy with them, and it doesn't take much insight to see that the show's rehearsals were a lot of fun.
Charlie Goolsby directs well in some parts and less powerfully in others. The big, show-stopping scenes gallop along nicely, while the quieter scenes seem to not know what to do with themselves. Transitions between scenes have a habit of losing the show's momentum. Melia Stockham's choreography works well, though at times the sheer size of the cast in the small venue makes for a few awkward moments.
The music and sound come off well, and Kassidee Quaranta, Shelby Winfrey, and Noah Lindquist sing prettily. Quaranta and Winfrey play soothing-voiced narrators and Lindquist assumes the role of Joseph. Joseph's brothers and the Pharaoh's fan club provide most of the show's laughs; when the groups leave the stage, one is wishing that they wouldn't go.
Jack Riegle's set gives the show its grandiosity and Susan Hires rigs some great props, most hilariously an easily dismembered goat. The show's lighting by Ron Chinn shows some nuance, though the set often looks either generally cool or generally warm, with little variety. Considering the story's emphasis on Joseph's colorful dreamcoat, a more creatively lit set might have used hues from the entire color wheel.
Theatre Lawrence's production emphasizes the flair of this musical, but the script has some interesting commentary buried in it as well. When Joseph arrives in front of the Pharaoh to interpret the ruler's dream, the Pharaoh turns out to be "The King" Elvis Presley, a stunt that can be seen as a subtle point aimed at the audience, a commentary who our rulers truly are. The Egyptians deified their rulers, as, perhaps, we deify our pop icons. Don't forget — have we forgotten yet? — that this story comes from a book of the Bible. Perhaps its writers, Andrew Lloyd Webber and Tim Rice, are trying to remind us there is a lesson buried under all of this color.
There is a lot to be ironed out in this show, and some elements might be unfixable. But as long as the actors rough it up as much as they did on opening night, the charm will do its work. As "The King" Pharaoh warned Joseph, "You don't get this right, you ain't nothin' but a hound dog, Joe."