Strawberries are in season, and the official snack of Wimbledon tennis tournament spectators (with cream, of course).
Regardless of whether you're a tennis fan, you're in for a treat with these strawberry recipes.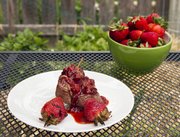 Delicious
Mr. Meat and Potatoes isn't a big fan of strawberries. I don't know what's wrong with him.
I mean, I suppose a lot of things are wrong with all of us, and his aversion to strawberries is probably least among my concerns.
But it does bother me because strawberries, when they are in season, are a gift. A gift that my darling husband opens, looks at, puts on an ambivalent or even off-put face, and says, "Thanks, but no thanks." It's just rude.
Here nature is, providing up gorgeous, plump, vividly red berries for us to eat plain (possibly the best way) or to make into any number of summery, festive, fun concoctions. I mean, really. Strawberry pie? What kind of soulless curmudgeon doesn't like strawberry pie? Strawberry pie practically sings to you. It dances and entertains and is delightful in every possible way. Not that I'd know; I haven't made one in six years since the poor thing would go uneaten and unappreciated in my house.
So, when Sarah suggested that we use the best of the early summer produce (ahem, the strawberry) in this month's column, I first jumped at the chance, and then considered my options. Did I want to try to make something that even my strawberry-hater husband might eat? Or should I throw caution to the wind and just make what I want because I want?
I ended with a compromise. I knew that my husband, who never eats dessert save the occasional brownie, would not eat anything sweet and strawberry, so confections were out. Also, I wanted to push our little red friends a little, see if they had the stuff to survive outside of pies, shortcakes and fruit salads.
I decided on a grilled steak and strawberry kabob. I figured if it involved steak, my husband would have a hard time passing it up, even if it had a strawberry glaze over the meat. How festive is that? How marvelous they look, coming off the grill. They're easy and fast to do, so you can serve them to a crowd and really impress the heck out of your guests. No one has to know how simple it is.
Strawberry Balsamic Sauce
1 pound strawberries, sliced
1/3 cup balsamic vinegar
1/2 cup sugar
2 teaspoons lemon juice
Pinch of salt
Combine all the ingredients in a sauce pan and cook over medium high heat, stirring often, for about 10 minutes or until the strawberries are fairly pulverized. I used a potato masher at the very end to work out any large chunks.
Meanwhile, make your kabobs.
Strawberry Kabobs
1 1/2 pounds thick sirloin, cubed
6 large strawberries
1/2 red onion
Salt and pepper

Soak six bamboo skewers in water for at least 15 minutes before you assemble your kabobs. If you don't, you're liable to char them on the grill.
Liberally salt and pepper the meat on all sides.
Onto each skewer, slide a piece of steak, a thick piece of red onion, another piece of steak, and then top with a strawberry (I left the green tops on because I thought they looked jaunty).
Grill over direct heat for about 10 minutes, turning every two or three to achieve even cooking and grill marks on all sides of the meat and the strawberries.
Serve with a spoonful of the balsamic strawberry sauce on top and a little on the plate for garnish.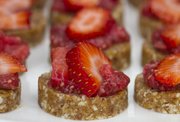 Nutritious
OK, confession: I have not turned in my very favorite recipe featuring strawberries.
But I'm not short-changing you, I promise.
It's more that the recipe in question isn't really much of a recipe. Though it does taste great, is totally healthy and makes for a great breakfast, snack or dessert.
Want to know what it is?
Combine chopped strawberries, blueberries, handful of walnuts and a handful or cacao nibs or dark chocolate chips in a bowl. Eat.
Really yummy, healthy and easy, but possibly a wee little bit disappointing.
So instead, I thought I'd share my second-favorite recipe: my take on strawberry shortcake. Bonus: It also hits the yummy, healthy and easy marks without a problem.
These cookies are chock full of iron and calcium (from the almonds), medium chain fatty acids (from the coconut and coconut oil), omega-3 fatty acids (from the chia seeds) and vitamin C (from the strawberries), plus fiber and protein to boot.
I actually think they're the perfect substitute for not only strawberry shortcake, but also for strawberries and cream, aka the official dessert of Wimbledon. I'm a total tennis nut and it's almost impossible to watch Wimbledon without craving strawberries. Juicy, ripe red berries smothered in cream get just about as much TV time as Rafael Nadal's biceps (and those are some nice biceps).
Biceps and strawberries? Now, that's not disappointing in the least.
Strawberry Shortcake Cookies
Cookies
1 cup almonds (raw, not roasted)
1 cup unsweetened coconut
1 1/3 cups Medjool dates
2 tablespoons coconut oil
Pinch salt

Strawberry Topping
1 cup chopped fresh strawberries
1 tablespoon chia seeds
1 tablespoon water
Sliced strawberries

Topping: In your food processor (if you have a small bowl) or blender, place the cup of chopped strawberries. Pulse lightly for a few seconds until the strawberries are mashed with some largish pieces remaining. Pour into a small bowl. Add chia seeds and water and stir to mix. Put in the fridge to chill for 30 to 40 minutes while working on the cookies.
Cookies: Combine all cookie ingredients in a food processor. Run for a minute or two until the mixture really starts to stick together. While the food processor is running, line a lasagna-sized glass pan (or a 9x13 metal pan) with parchment paper. When the dough is sticky enough to really clump together, scrape the dough onto the parchment with a flexible spatula. Use the spatula to flatten the dough into a rectangular shape (it may not reach all the edges of your pan), making it about a quarter-inch thick. Smooth the surface until it is as flat as you can make it and then place the pan in a freezer for 20 minutes. After 20 minutes, cut into desired shapes. This dough doesn't let you "re-roll" it like traditional cookie-cutter dough, so I cut my shapes and then break up the remaining odd pieces and just snack on them as-is. Store them in the freezer between layers of parchment paper until ready to top.
To assemble: These cookies do best when assembled right before eating. To do it, simply top each cookie with the topping and add sliced strawberries for extra prettiness. Enjoy! Makes 30 cookies plus tons of odd-shaped extras.