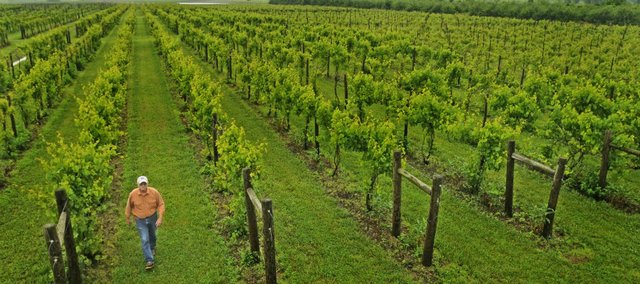 Winesong at Riverfest
Winesong at Riverfest is planned for 4 p.m.-8 p.m. Saturday at Riverfest Park, address 33440 W. 79th St. in De Soto. There will be a tent in case of rain.
Tickets are $15 each, and organizers suggest purchasing them in advance online at winesongatriverfest.com. Tickets also will be available at the gates. Attendees must be at least 21 years old, with identification.
Admission includes 10 sampling tickets and a souvenir wine glass. Wine will be available to purchase by the bottle. The event also will feature a number of area artists displaying and selling their work, as well as appetizers and live music.
Kansas wines coming to De Soto
These Kansas wineries are scheduled to participate in Saturday's Winesong at Riverfest event.
BlueJacket Crossing Vineyard and Winery, Eudora, bluejacketwinery.com
Davenport Orchards and Winery, Eudora, davenportwinery.com
Holy-Field Vineyard and Winery, Basehor, holyfieldwinery.com
Jefferson Hill Vineyard and Winery, McLouth, jeffersonhillvineyard.com
Kugler's Vineyard, Lawrence, kugler's vineyard.com
Middle Creek Winery, Louisburg, middlecreekwinery.com
Nighthawk Vineyard and Winery, Paola, nighthawkwines.com
Renaissance Cellars, St. Marys, renaissancecellars.com
Rowe Ridge Vineyard and Winery, Kansas City, Kan., roweridge.com
Somerset Ridge Vineyard and Winery, Paola, somersetridge.com
Stone Pillar Vineyard and Winery, Olathe, stonepillarvineyard.com
Wine Barn Winery and Vineyard, Kansas City, Kan., winedottebarn.com
Wyldewood Cellars, Paxico, wyldewoodcellars.com
White Tail Run Winery, Edgerton, whitetailrunwinery.com
If you're heading to the new wine-tasting event Saturday in De Soto, you won't find wines that taste exactly like your favorite Napa Valley cabernet or Argentinian malbec.
However, organizers say, that isn't a bad thing.
The event, called Winesong at Riverfest, will feature all Kansas wines — with 14, or more than half, of the state's 23 vineyards expected to be represented. Instead of the typical liquor-store best-sellers, you'll find grape varietals such as Seyval, Vignole, Chambourcin, Cynthiana and Concord.
"Don't try and compare it, they're not the same," said Michelle Meyer, who, along with her father, Les Meyer, owns Basehor's Holy-Field Vineyard and Winery. "You can't compare apples to oranges. We are growing different kinds of grapes in this region."
Do expect quality, though, Meyer said. Most Kansas vineyards grow French-hybrid grapes, and a number of the represented wineries, including hers, have won national awards for their products.
Tony Kugler, who owns Kugler's Vineyard in rural Lawrence, earned a bronze medal at the National Norton Wine Festival in St. Louis for his Cynthiana a few years ago.
Being small can be an advantage when it comes to making wine, Kugler said. It's easier to monitor and control the qualities that make good wine, such as sugar and ph-levels.
Winesong at Riverfest attendees will be able to try multiple wineries' versions of the same varietal — which can be a good way to narrow your focus at an event that includes too many choices to try in a day.
And unlike many mainstream tasting events where large wineries send representatives across the country, the person filling your glass during Winesong at Riverfest may well be the person who grew the grapes and created the wine themselves.
"You will learn a lot, especially if you've never patronized or visited regional wineries," Meyer said. "They (winemakers) want you to be as excited about it as we all are."
The city of De Soto is organizing the event, with profits going to the De Soto Rotary Club.
City Administrator Patrick Guilfoyle, himself a wine-lover, said he envisioned the event to attract outsiders to De Soto's relatively new Riverfest Park — a regional park overlooking the Kansas River that features, among other things, a natural amphitheater for concerts — and to help boost business for Kansas wineries.
A new law should make the event more worth winemakers' time, too, Guilfoyle said. As he laid plans for Winesong at Riverfest, Guilfoyle worked with area legislators to pass a new law allowing the wineries to sell wine by the bottle at the event and future events like it. Until now, they might travel hundreds of miles for such an event with no way to sell any wine to festival-goers.
Guilfoyle said he hoped the event would help more people share his appreciation of Kansas wine, which he began to hone a few years ago after his first visit to a Kansas winery.
"I have to admit, I went into the winery with a little bit of an ignorant, snobby attitude," he said. "I was blown away by what I experienced."
Guilfoyle said comparing mainstream wines to Kansas wines is kind of like comparing cola to Dr. Pepper.
"It's different, but it is equally refreshing, equally good," he said. "And you need to drink it for its own intrinsic, unique value."