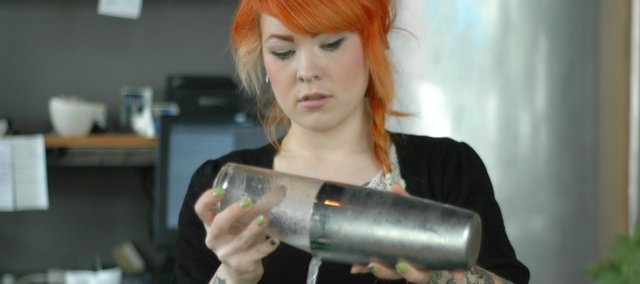 It's summertime, which means it's also patio-drinking time.
This week, we asked a handful of Lawrence bartenders to concoct a few cold libations perfect for outdoor summer sipping.
Of course, fresh fruit was the key ingredient of choice.
At Pachamama's, 800 N.H., manager Kenny Pingleton said staffers took advantage of in-season berries to create the Blueberry Gin Rickey, a light, crisp drink with just the right hint of blueberry flavor.
Bartender Paige Ensminger said she was looking for something simple, without too many ingredients. The Blueberry Gin Rickey, she said, is a "classic cocktail with a little twist."
Spiked Lemonade came from bartender Lindsay White at Esquina, 801 Mass. The drink not only tastes good, it looks especially pretty in a clear glass or a pitcher, thanks to the addition of fresh fruit and herbs.
Any fruit you have on hand would work, White said. You could even switch it up by adding a splash of fruit juice or flavored vodka.
"It could change every time," she said. "It turns a regular lemonade into a patio drink."
Tortas Jalisco, 534 Frontier Rd., turned out the Guavarita.
Restaurant owner Angel Alvarez lived in Jalisco, Mexico, until he was 17. There, he said, he remembers picking and eating guavas straight from the trees.
He said the juicy, pink-fleshed fruit is the perfect addition to make a traditional margarita into something new, and perfect for the patio.
"Guava is one of our favorite fruits," Alvarez said.
Also, Alvarez suggested, instead of clear tequila, choose reposado for margaritas — it's oak barrel-aged, resulting in a golden color and smoother, richer flavor.
Mariscos, 4821 W. Sixth St., shared one of their signature "skinny" cocktails — the Colada Lite.
Bar manager Lisa Wall described the drink, in which cream is optional, as a fresh, lighter take on a summertime favorite. Plus, she said, you don't even need a blender.
"This is just a twist on a classic piña colada that will be very easy to make at home, and it's under 100 calories," she said, noting that's under 100 calories even with a splash of half-and-half if you prefer your coladas creamy.
Cheers to summertime, and the drinks that come with it.
BLUEBERRY GIN RICKEY
Small handful of fresh blueberries
Simple syrup to taste
2 ounces gin
Juice of half a lime
Club soda
Lime wedge, fresh basil sprig and extra blueberries for garnish
Muddle blueberries in a glass with simple syrup. Add lime juice and gin. Shake with ice. Strain into an ice-filled Collins glass, and top with club soda. Garnish with lime wedge, basil and blueberries.
(Recipe from Pachamama's, 800 N.H.)
SPIKED LEMONADE
Make this drink by the glass, or multiply the recipe to make a full pitcher for a group. For a Latin-inspired version, add cilantro and coat the rim of the glass with chipotle-lime Tajin seasoning instead of sugar. For an alcohol-free version, just leave out the vodka.
1.5 ounces vodka
3 ounces lemonade
Your choice of sliced fresh fruit, such as watermelon, strawberries, blueberries, oranges or grapefruit
Your choice of fresh herbs, such as mint or basil
Sugar for rim of glass (optional)
Coat the rim of a Collins glass with the sugar; fill glass with ice. In a cocktail shaker, shake vodka and lemonade with ice; pour into glass. Stir in fruit and herbs. Garnish with additional fruit and herbs.
SPIKED LEMONADE SHANDY
Make drink as above, using a pint glass instead of a Collins glass. Add light beer, such as Dos Equis Lager, to fill glass.
(Recipes from Esquina, 801 Mass.)
GUAVARITA
2 ounces reposado tequila
1 ounce simple syrup
1 ounce fresh lime juice
4 ounces guava juice (See note, below)
Salt and lime wedge for garnish
Salt the rim of a margarita glass; fill glass with ice. Pour in tequila, simple syrup, lime juice and guava juice, and stir. Garnish with lime.
Note: To make guava juice, place a can of guavas in a blender with just enough water to puree. Strain through fine sieve.
(Recipe from Tortas Jalisco, 534 Frontier Rd.)
COLADA LITE
1 ounce vanilla vodka
2 ounces zero-calorie pineapple coconut sparkling soda (available at Dillons)
2 ounces soda water
Orange twist and pineapple chunk for garnish
½ ounce half-and-half (optional)
Serve over ice in any glass you like. Garnish with orange twist and pineapple.
(Recipe from Mariscos, 4821 W. Sixth St.)
— Features reporter Sara Shepherd can be reached at 832-7187. Follow her on Twitter at Twitter.com/KCSSara.