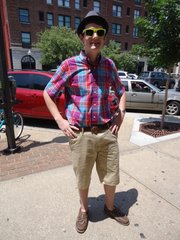 Name: Adam Korte
Age: 17
Relationship status: Single
Hometown: Warren, R.I.
Time in Lawrence: 12 hours
Occupation: Student/camp counselor
Dream job: Getting paid to travel
What were you doing when scouted? Breathing. Digesting. Looking at "Clockwork Orange" T-shirts.
Describe your style: Preppy hipster
Fashion trends you love: I'm digging plaid, Ray-Ban sunglasses and earthy tones.
Fashion trends you hate: Valley-girl style and anything too revealing
Fashion influences: Thom Yorke
What would you like to see more of in Lawrence? Music
Less of? Frowns
Tattoos or piercings? None
Who do people say you look like? One of the Doctors from "Doctor Who."
Tell us a secret… I don't have many secrets. I'm an open book.