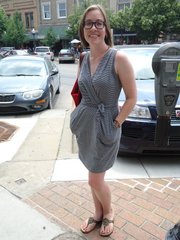 Name: Stacia Decker
Age: 35
Relationship status: Married
Hometown: Valley Center
Time in Lawrence: Visiting for a couple days
Occupation: Literary agent
Dream job: Literary agent
What were you doing when scouted? Saying goodbye to my sister and brother-in-law
Describe your style: I never iron. I buy cotton.
Fashion trends you love: Punk-rock jewelry
Fashion trends you hate: I hate rompers.
Fashion influences: New York City, in general
What would you like to see more of in Lawrence? I love Lawrence the way it is. It's my favorite place to visit in Kansas.
Less of? Patchouli incense in stores
Tattoos or piercings? Yes. I have a tattoo of the state motto of Kansas and a stalk of wheat on my food. I also have my nose and tragus pierced.
Who do people say you look like? A younger Emma Thompson. And a younger Hillary Clinton.
Tell us a secret… My father is a huge KU fan, but he graduated from K-State.