Photo Gallery
Images from the Dear Lawrence photo project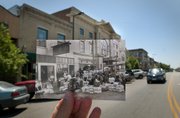 July 2012 update: We're once again accepting photos for the Dear Lawrence project. Scroll down to see some of the new additions. <br /> <br /> Members of our photography staff, local photographers and all of you are invited to participate in our Dear Lawrence Community photo project. These are some of the great photos we've received so far, but there's still time to participate. Get out your old photos and your cameras and start submitting. You can do it via email to dearlawrence@ljworld.com, by posting a photo on our Facebook page wall at Facebook.com/LJWorld, or submitting an image at <a href="ljworld.com/dearlawrence">ljworld.com/dearlawrence</a>.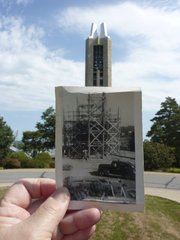 Click here to submit your photos to the Dear Lawrence project.
Not so fast if you were thinking about putting away that shoebox of old photos.
In light of the response we received from readers and the popularity of the Dear Lawrence Project, we've decided to bring it back for another go-around.
The Journal-World and LJWorld.com will soon be accepting digital submissions. More details on the submission process will come later, but right now the important part, if you're interested in participating, is to start gathering your subject matter.
For those of you unfamiliar with the project, you can do Google search of "Dear Lawrence Project" and to find links to the introduction as well as last year's gallery to provide you with some examples. If you've read this already and are a seasoned "rephotographic" pro, feel free to skip ahead or stop reading right here.
In my opinion and through past experience, the images that most-successfully bridge the visual gap between old and new are the ones that align the best. If you were like me and got a C- in geometry, you'll likely have to spend a bit more time out in the field before things start to make sense.
Although we aren't looking for perfection, here are some tips to help you through the process:
My first suggestion is to use a wide-angle lens primarily for the depth that you will get. Depth is your friend in this project, and it enables focus on your primary subject (the photograph in your hand) as well as within your background (the current scene). Also, reshooting a photo held out in front of you while trying to include the existing space is tough to do, even with a normal lens, such as a 50 mm.
Second, I would say to keep the photograph as parallel as possible with the front of the lens. If you skew the photo in your hand, the overlaying of the images will be thrown out of whack.
Third, use elements within the photo, i.e. sidewalks, fences, houses, buildings and even people, to measure scale. If the roof line of the old photo and the current scene line up but the ground doesn't, you're probably too close or too far away and simply need to move a few steps and then reposition.
For those of you shooting with wide-angle zooms, it seems easier to choose a focal length and physically move forward or backward rather than trying to align by zooming, but whatever works.
This may not be a tip, but the images don't necessarily have to be old or of recognizable places to be effective. Most of us don't have an archive that includes pictures of the Campanile being constructed, but Joyce Halderman did and it was pretty cool.
Just about everyone, however, has pictures of family and friends in and around town, and I encourage you not to pass these over. I'd say if you have images of people and places that are dear to you and the location is still accessible, give it a shot.
Stay tuned for more details and good luck.
More like this story on Lawrence.com