Photo Gallery
100 years of LIberty Hall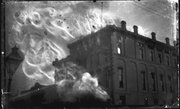 A look back at the last 100 years of the Liberty Hall building.
100 years of Liberty Hall
1912
Newly constructed Bowersock Opera House opens, called "the finest theatre for any town the size of Lawrence" by the Lawrence Daily Journal-World
1920s
Motion picture equipment installed to show occasional films in addition to live performances
1923
Bowersock is sold to Glen W. Dickinson Sr. and renamed Dickinson Theater, presents primarily motion pictures.
1928
First wedding performed in building.
1929
Air conditioning installed, making the Dickinson one of only two public places in town to have it.
1940
Theater changes hands, contest held to rename it. The Jayhawker is chosen because of the venue's close association with Kansas University (KU drama performances and other events had been held on the site since the 1800s).
1940
Jayhawker hosts world premiere of "Dark Command." The film, starring John Wayne, was set in Lawrence and inspired by the story of Quantrill's Raid.
Late 1950s
Jayhawker closes, building sold and used for warehouse space
1960s
Civil Defense flags building as one of safest in town for a bomb shelter
1964
Building bought by John Brown and Mike Murfin, who open it as the Red Dog Inn. New concert venue draws acts including the Dick Clark Show, Arlo Guthrie, Fleetwood Mac and Ike and Tina Turner. At one point, owners once told the Journal-World, Red Dog was the largest draught Budweiser account in the country.
1974
Red Dog closes, building changes hands and identities numerous times in the next decade. Ventures include the Free State Opera House, the 7th Spirit Club (a nightclub in the basement), Bugsy's Disco and the Lawrence Opera House.
1982
Lawrence Opera House closes, building goes up for auction. Venue open only for private parties.
1980s
City entertains plan to tear down building, and others nearby, to build a 400,000-square-foot mall.
1985
David Millstein and the late Charlie Oldfather purchase building at auction.
1986
After extensive rehabilitation, building reopens as Liberty Hall.
— Source: Watkins Community Museum of History
J.D. Bowersock surely never envisioned his elegant Beaux-Arts-style opera house with a Plexiglas dance floor and disco lights, people crammed shoulder-to-shoulder while Ike and Tina Turner rocked the stage, or even harboring unorthodox Christmas trees in its every nook and cranny.
In the last 100 years, the building now called Liberty Hall has changed names and motifs but rarely strayed from its identity as a community gathering place.
Bowersock descendent Stephen Hill, a Lawrence resident, says that's probably fitting.
"I think he understood from the first that this was a contribution to the cultural life of Lawrence," Hill says.
Liberty Hall's current owners, David and Susan Millstein, of Baldwin, see the building at Seventh and Massachusetts streets as more than just a business.
"We feel the same way that Bowersock felt about it," David Millstein says. "You always need a place for entertainment and community, and we're here to fulfill that."
Building to last
After his first Bowersock Opera House burned down in 1911, Bowersock rebuilt it to last, using brick and reinforced concrete.
And last it has.
The people of Lawrence showed up to watch opera, vaudeville and silent films, which eventually gave way to "talkies." After Bowersock's death, the building was sold and repurposed as a movie theater — first the Dickinson and later the Jayhawker.
The lengthiest period the building was not open to the public was in the 1950s and 1960s. It was being used as warehouse space and faced the threat of being razed.
"It was unsightly," Millstein says. "It was the after-thought of downtown."
But by the mid-'60s, crowds returned — this time louder and rowdier than ever.
The Red Dog Inn brought national acts like the Dick Clark Show, Arlo Guthrie and Fleetwood Mac, and hundreds of beer-drinking fans along with them to the old theater.
Good times
Ike and Tina Turner was the first show Millstein saw there after arriving in town as a college student.
There was only supposed to be about 1,000 people in the hall, but there must've been twice that, Millstein says. The crowd was packed like sardines, and the atmosphere was charged. Basically, he says, it was insanity.
"Ike was just — he was pushin' it hard, man," Millstein reminisces.
In the 1970s there was even a nightclub in the basement — the 7th Spirit crammed smaller-name bands and fans into the low-ceilinged, meandering underground level now used as dressing rooms for performers.
When current Liberty Hall event manager Rob Fitzgerald came to Lawrence for college in 1980, he hit Liberty Hall his first night. The hall became a regular hangout, where hundreds of people a night might show up for a punk band — BYOB.
"We had a good time," Fitzgerald says, but the hall was starting to show wear and tear, not to mention it had orange-carpeted walls left over from its days as a disco.
All the while, in addition to entertainment, the hall has seen weddings, speeches, charity socials, Kansas University events and, in 1997, even William S. Burroughs' funeral. 
Every day, Fitzgerald says, it seems like people walk in and comment about a show they saw there back in the '60s, or that relative's wedding they went to back in the '90s.
The Festival of Trees is one of Liberty Hall's longest-running community events.
For 23 years, members of the community that might not otherwise come together have converged on Liberty Hall for the festival, which raises money for The Shelter Inc., says Judy Culley, executive director.
"It's a building that has served the community for a long, long time," she says, adding that the old building's beauty is a fitting backdrop. "It's just perfect for it to be at Liberty Hall."
Give them Liberty
When the Millsteins teamed with the late Charlie Oldfather to purchase the building in 1985, it had been vacant a couple of years and was pegged for demolition to make way for a shopping mall.
The Millsteins restored it and renamed it Liberty Hall — after the first designated community hall on the site, back in the 1870s — and reverted its purpose to involve more than partying.
Now, Liberty Hall serves as movie theater, performance theater, concert venue and community event space.
"I think it's just back to its original function," Millstein says. "It's changed its moods a few times in the last hundred years, but I think we've struck the balance here. Hopefully we can get another 100 years out of it."
More like this story on Lawrence.com