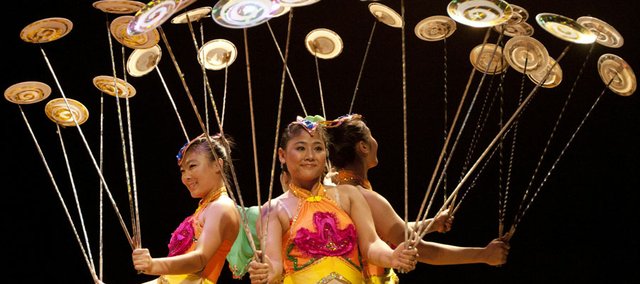 One man stands on another's shoulders. On his shoulders stands a third man, his arms stretched high, reaching for the rafters of the stage at Liberty Hall. The man on the bottom tier dances around, the other two keeping their balance on one another. But then — in an instant — there appears to be an elongated, angular fall from the top. The gasp is audible from the crowd, filled with young and old alike. With not even a second to spare, the top two men go into a mid-air roll, landing on the stage floor on their feet. The audience, now, claps with joy.
Photo Gallery
Fabulous Chinese Acrobats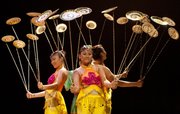 A 20-person acrobat troupe from China, called simply the Fabulous Chinese Acrobats, came through Lawrence on Monday night in a benefit for the Lawrence Community Shelter. About 250 people came to the show.
Marcelino Chavez, 9, said that the event was a lot of fun when it came through last year and that he was particularly excited this time around for the spinning plates. A.J. Chavez, 7, said his favorite part to see was the juggling.
John Tacha Jr. organized the event through his company, the Bureau of Lectures and Concert Artists, which runs acts like the acrobats through school assemblies. His father, John Tacha Sr., is president of the board of directors of the shelter. The younger Tacha said that the event last year raised $1,900 for the shelter.
"I didn't know it was a benefit for the shelter when I first heard about it, but when I heard, I thought it was a great thing to do," said Karen Ross, who attended the show.
Michael Hu is an interpreter and driver for the acrobats, and said they appreciated the experience of the tour, which has traveled throughout the country.
"We get to learn another culture, get to taste different food and meet people at over 300 schools," Hu said. "It's a once- or twice-in-a-lifetime opportunity."
More like this story on Lawrence.com