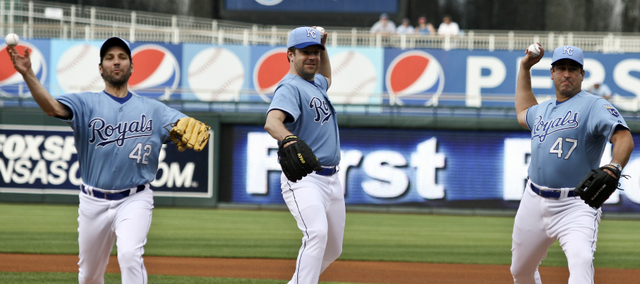 Big Slick Celebrity Weekend
Friday
5:30 p.m. Big Slick Celebrity Wiffle Ball Tournament, Kauffman Stadium, before the Royals game at 7:10 p.m.
Saturday
10:30 a.m. Big Slick Texas Hold'em Poker Tournament, Harrah's Kansas City. Cost: $500 poker seat
6:30 p.m. VIP Party, Midland Theatre. Cost: $1,000 VIP party pass
8:15 p.m. Big Slick Celebrity Party & Auction, Midland Theatre. Cost: $125 Party and auction ticket
Kansas University alumnus Rob Riggle anticipates a full house this weekend as he once again teams up with fellow actors Paul Rudd, also a KU alumnus, and notorious Jayhawk fan Jason Sudeikis, to co-host the third annual Big Slick Celebrity Weekend, a benefit for Children's Mercy Hospital.
The Big Slick kicks off Friday night with a celebrity wiffle ball game at Kauffman Stadium and culminates Saturday in a celebrity poker tournament at Harrah's Casino followed by an auction and entertainment at the Midland Theatre, all in Kansas City.
For Riggle, the decision to ante up was easy.
"I was invited to help with a benefit for Children's Mercy in 2009 and got to tour the hospital," Riggle says. "When I saw what incredible care they provide, saving lives in new ways every year — I even observed a heart surgery they performed on a 9-day-old baby — I was sold."
Riggle soon hatched a plan for a celebrity poker tournament in Kansas City. Rudd and Sudeikis, both of whom grew up within miles of Riggle in Overland Park, enthusiastically agreed to co-host without hesitation and poured themselves into making it happen.
"Our job became finding celebrities willing to give up a weekend out of their own lives to help out," Riggle says.
Back on the home(town) front, this three-of-a-kind enlisted the help of their families in coordinating the celebrity-filled weekend, a mission they gladly accept every year. "They are our foot soldiers," says Riggle, who is also a lieutenant colonel in the U.S. Marine Corps Reserve.
After raising more than $300,000 within the first two years for the CMH general fund, this year's Big Slick weekend will specifically benefit the Children's Mercy Cancer Center.
Lawrence resident Kristine Burrichter is delighted with the support these jokers are lending to CMH, where her daughter, Sarah, 8, has undergone treatment for a brain tumor for nearly four years.
"We have been blown away with the care Sarah and, really, our entire family has received at Children's Mercy," Burrichter marvels. "The staff's consistently positive disposition is very inspiring. They care for Sarah, and her siblings too, to the point where we never think of our visits there as 'treatments,' we just think of them as going to see friends."
Lawrence pediatrician Anne Van Garsse agrees: "We are fortunate to have such outstanding pediatric specialists in close proximity. Children's Mercy is the No. 1 place utilized for our patients who need specialized care."
This year's Big Slick's star-studded guest list, ready to play and entertain all weekend, includes actors Jon Hamm, Eric Stonestreet, David Koechner, Nick Kroll and many more. KU men's basketball coach Bill Self will also be back for his third year at the Big Slick auction party.
Teases Riggle, "There are a lot of fun surprises in store."
For tickets and more information, visit the Big Slick website at BigSlickKC.org.
More like this story on Lawrence.com