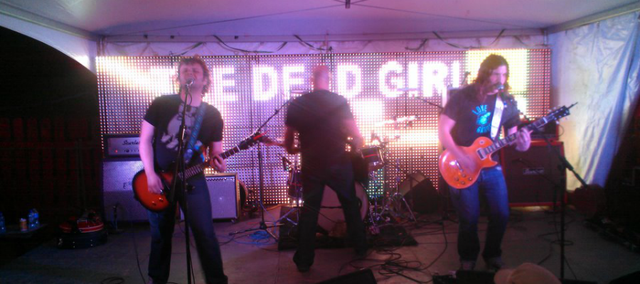 The Dead Girls opted against the levee and took their Chevy to the Record Bar. Actually, Chevy took them.
Rock and roll metaphors aside, Chevrolet picked Lawrence band The Dead Girls to take part in the Chevy Music Showcase, a new online and TV-based marketing campaign that highlights local bands and the Kansas City music scene as a way to get Chevy's brand in front of new customers.
Band songs
Dead Girls
The four piece power pop outfit recorded two songs and an interview in early May for a two-minute "mini documentary" that will debut June 20. The band recorded two songs "She Laughs a Little" and "The Beast Inside." Parts of one will be featured in the segment, while the other will be made available as a free download. All content will be available at chevymusicshowcase.com. The show, recorded at Kansas City's Record Bar, will also air during primetime TV commercial breaks on Kansas City ABC and CW channels June 20, 21 and 22.
"Those were just songs we've been playing pretty consistently live and we really comfortable with them," guitarist/vocalist Cameron Hawk said of their song selections. "It's a really cool thing they (Chevy) are doing. It's awesome they would want to do this and get the word out."
The Dead Girls are one of eight bands, and the only from Lawrence, selected for the Kansas City version of the showcase. Tommy Smeltzer, director of the showcase, said they were selected due to recommendations for those in the Kansas City scene and in part because they liked the band's story. They asked bookers, musicians and people intimate with the Kansas City music scene for recommendations. They wanted working-class bands, and were looking to represent a wide range of genres.
"The Dead Girls were right in that wheelhouse," Smeltzer said. "We thought (singer/guitarist) JoJo (Longbottom) being a schoolteacher was cool. And the fact that they'd opened for KISS, who was one of their hero bands. You just get a feel for people who are interesting."
Smeltzer reached out to the band, and they quickly agreed to take part. After filming a few takes of their two songs, they did their "interview" with Kansas City band Soft Reeds. It was an interview in the sense that they asked each other a few questions, but veered from the traditional sense in that there wasn't a reporter on the asking end of the queries. The idea was to get the musicians comfortable and not throw the same old questions out that they hear all the time.
"We thought 'this might be awkward,'" Longbottom said of the discussion. "An hour and a half later, we were like 'did we just do an interview?'"
The bands traded stories about touring, song writing, good and bad gigs, gear, recording techniques and numerous other topics near and dear to touring musicians.
The episodes were shot within one day. There will be at least two two-minute segments. The band said all went smooth, aside from playing under scorching hot lights.
"It went real well. We didn't know what to expect. But everybody was very professional and very encouraging," Longbottom said. "They were genuinely excited and not trying to manipulate the artists. They were just genuinely excited about the music."
Smeltzer said the concept for the showcase was born out of that excitement. Chevrolet does a lot of sponsorship in Bricktown, an entertainment district of Oklahoma City. They've been sponsoring shows and supporting the scene there for a few years. The first episodes of the showcase were filmed there, featuring Oklahoma City bands.
"As the show took on a life of its own, we realized it could be bigger than just that," Smeltzer said.
They took the show on the road to St. Louis and now have arrived in Kansas City. There are no immediate plans to expand, but Smeltzer wouldn't rule out the possibility. His older sister was playing in bands for as long as he could remember, Smeltzer added. He later worked with musicians professionally.
"I grew up being the fifth guy in the room," he said. "Then I was a recording engineer and got to be in that inner circle, without actually being a member of the band. We wanted to share that experience with the audience."
The showcase is a way to "put their money where their mouth is" by not only saying they support live music and the community, but actually doing so by providing things many bands can't afford: professional video production and purchasing of air time. The producers work with Kansas City-area Chevrolet dealers and have devoted a share of their advertising budget to produce the showcase. Many young people are not available to traditional advertising methods – they watch TV online if at all, don't read newspapers and get their news through social media. By providing something they are interested in, the hope is to keep the Chevy brand in their minds and draw a few customers into KC dealerships.
"We want to be invited to the party, essentially," Smeltzer said.
Like their heroes in KISS, The Dead Girls have been rock and rolling and partying, maybe not all night, but plenty lately. They're putting the finishing touches on a new record "Fade In Fade Out," which they hope will be released later this year. Hawk, Longbottom, drummer Eric Melin (who writes Lawrence.com's Scene Stealers blog) and bassist Nick Colby also recently recorded a Daytrotter session in Rock Island, Ill. The sessions, recorded at the studio of Horseshack Records, feature all manner of up-and-coming indie bands. Often compared to the legendary Peel Sessions, bands can come in, record songs and they are made available at daytrotter.com.
The Dead Girls recorded five songs, including a few from the upcoming record, which they hope will be made available in August.
"Pretty much any modern band I like seems to have done it," Hawk said of Daytrotter sessions. "It ended up sounding pretty good. We were really nervous about it, but it went well."
Longbottom agreed, comparing the sessions to '90s indie stalwarts he grew up listening to.
"It reminds me of back in the day having Sub Pop or Matador Records putting cool stuff out," he said. "You knew what they were putting out was gonna be great. I think Daytrotter has really taken the place of that."
The band will be playing shows later this year as all of the projects come to fruition. As for now, wherever Chevy and its showcase take them, they plan to enjoy the ride.