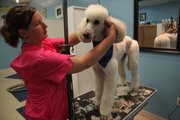 Shelbie Harrell is only 22 but has had an eight-year career.
Harrell grooms dogs at Pawsh Wash, 1520 Wakarusa Drive. She's been doing it since she was a teenager.
Setters, schnauzers, spaniels, shih tzus, Saint Bernards, bichons and poodles — Harrell does it all. Even cats.
Before Harrell styled pets, she worked with farm animals. A local farm girl, Harrell would sheer sheep for shows through 4-H.
It was the sort of thing every 4-H member did, but for Harrell it was something more. Harrell loved animals. And she pursued that love.
It was her mother's poodle, Mandy, that initially aroused her interest in dog grooming. The family had Mandy groomed professionally. And Harrell would pester and plead, begging the groomer until she finally agreed to impart the skill. The groomer hired Harrell, starting her on baths.
Harrell bathed dogs for two and half years: bathing, blow drying, clipping nails and cleaning ears. Then it was decided that Harrell should learn to cut hair. At first, she would watch other groomers in action. Then she learned how to wield the scissors herself.
Now Harrell can finish any breed of dog in less than two hours. This includes bathing, clipping, cleaning ears, shaving and brushing.
"There are hard dogs and easy dogs, and you're going to get bit once or twice," said Harrell. "Shih tzus and Yorkies are the easiest. I always like to have them in the middle of my day, to have a little break."
There's a different clip for each dog breed. And in addition to the show standard, owners have a mental image of what they would like their dog to look like. Treating the event like a human haircut, owners often bring pictures of styles they want to see on their dogs. Sometimes the styles are complex. But for Harrell, the hardest dogs to groom are also the most fun.
"With poodles and bichons, you have to sculpt the dog's structure to make it look the way it's supposed to," said Harrell. "They're harder and you have to think more, but it's worth it. You have so much play and creativity that you can work with."
Harrell also grooms cats, an anomaly among groomers.
"Not very many groomers will mess with cats," she said. "From their claws to their mouths … some haven't been groomed very much at home. They fight a lot."
Dogs will fight, too, sometimes. But usually they are more at ease in the water.
"There are some of those farm dogs that only get groomed once a year and they don't care for it. Maybe puppies, on first groom, they don't really care for it, but once they know, after that first groom, they tend to start relaxing a lot," Harrell said.
And when the dogs relax, Harrell gets to work. But the best part of the job, said Harrell, is after the bathing, the brushing, the clipping and cleaning. The best part, she said, is the transformation.
"I like to see the difference when the dog walks into the door and it looks like a mutt, and it comes out looking like a show dog. It's really nice to see the difference … and then to know that you did it."