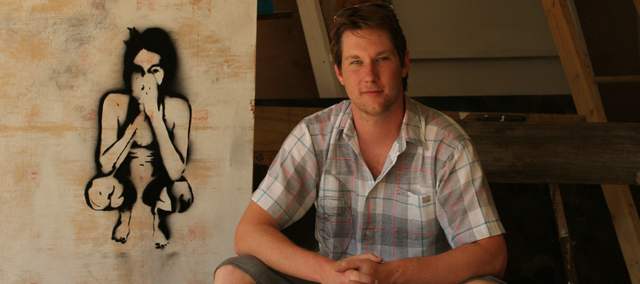 John Sebelius starts the explanation with this: "I was 21 when I made the game."
It's not an apology. It's just a statement.
The game was "Don't Drop the Soap," a prison-themed, Monopoly-esque board game that earned Sebelius national publicity in 2008, with the game's official release. But it also sparked controversy when a state representative called the game's title inappropriate and called for an investigation into whether the governor's mansion — where Sebelius' mother, Kathleen, held the state's top executive post — was being used to market the creation.
"I was pretty green to any backlash," Sebelius says. "I learned a lot about business, the press and taxes, just like a lot of young artists."
Past Event
Friday, August 26, 2011, 6 p.m. to 9 p.m.
Invisible Hand Gallery, 801 1/2 Mass. St., Lawrence
All ages
At the time of the game's wide release, Sebelius was 23 and had just completed a degree at the Rhode Island School of Design. His primary artistic medium was illustration.
Fast-forward more than five years, and he has completed his master's of fine arts degree from Kansas University and has expanded his art to filmmaking and a clothing line. He's looking to establish himself as a serious artist.
"I'm changing and growing as a person and an artist," he says.
Sebelius' works — film, sculpture and 2-D art — will be featured during an event Saturday that also showcases the newly renovated Granada theater, 1020 Mass.
Sebelius, now 28, will screen both his film debut, "Searching at Sturgis," a personal-narrative documentary about his first experience at the famed motorcycle rally, as well as "71st Annual Rally," his short film of vignettes featuring the most recent motorcycle event. He also will have art on display throughout the event.
Though Sebelius' artistic ventures — a clothing line, video, 2-D art, sculpture and that board game — might seem a random combination, at least some of the projects are connected.
Take, for instance, Sturgis and his art.
After beginning to draw bikers, Sebelius and a buddy decided to travel to the South Dakota town in the Black Hills that draws thousands of bikers and their motorcycles each year. The goal was to photograph bikers that later would be inspiration for drawings and paintings. He admits he was a little nervous about how two non-bikers would be treated.
"I was accepted by a community I wasn't a part of," Sebelius says. "I was met with kindness and compassion."
Not only did the experience lead to a documentary — and now a complementary short film — it also has inspired his visual art since then.
"It was an opportunity to take some risks," he says of his post-Sturgis liberation. "I could break out of my background of illustration."
Now, Sebelius has moved from mostly oil painting to working with spraypaints, wood and found objects. He recently finished a sculpture out of old drawing boards — complete with paint, ink and perhaps tears of generations of students — that were being discarded by KU. He also continues to focus on portraiture, only in a new medium.
Used items are one theme in Sebelius' art. His clothing line, Gillius, started with second-hand clothing on which he added his own drawings. Though he has scaled back mass-produced clothes, he still does special requests.
As for the future of his art, Sebelius says bigger is better — he's looking larger-scale, and to be more productive.
He also is working on a documentary about Slab City, a community in California where Sebelius is helping to refurbish a 1976 Dodge RV and hopes to paint a mural on the side.
"I think it's best for me to stay busy," Sebelius says of his variety of art. "If it's something that intrigues me, I jump into it. I'm not one to be just into one thing — I get bored."