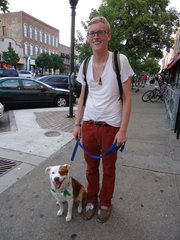 Name: Ethan Craighead
Age: 20
Relationship status: Single
Hometown: Olathe
Time in Lawrence: A year
Occupation: Photographer
Dream job: Travel around and write and take photos
What were you doing when scouted? Walking my dog
Describe your style: Whatever my brother hands down to me. Salvation Army style.
Fashion trends you love: Whatever
Fashion trends you hate: Whatever
Fashion influences: My brother
What would you like to see more of in Lawrence? It's pretty good as is.
Less of? Frats and sororities
Tattoos or piercings? Four tattoos
Who do people say you look like? Moby, when I had my head shaved
Tell us a secret… I dated a girl in high school, then she went to college and got married. It was the worst day of my life.
More like this story on Lawrence.com