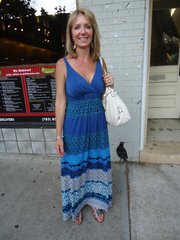 Name: Shelly Hoggart
Age: 48
Relationship status: Married
Hometown: Eureka
Time in Lawrence: 17 years
Occupation: Hair dresser
Dream job: A volunteer at the hospital
What were you doing when scouted? Walking with my husband
Describe your style: Fresh and young, but age appropriate
Fashion trends you love: Maxi dresses
Fashion trends you hate: None. To each their own. I don't hate anything.
Fashion influences: I read a lot of different magazines
What would you like to see more of in Lawrence? Restaurants with good appetizers
Less of? I don't want to see less of anything.
Tattoos or piercings? My ears are pierced.
Who do people say you look like? People have sometimes told me, "Somebody I know."
Tell us a secret… I wouldn't tell you (husband's note: She can't keep a secret.)