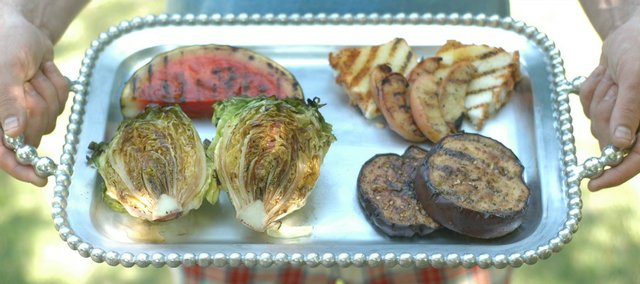 How hot is hot?
If you don't have a thermometer to test the temperature of your grill, the Kansas City Barbeque Society offers this rudimentary method — just be careful.
Hold your hand, palm down, just over the grill. Count (using "one thousand one, one thousand two and so on) until the heat is uncomfortable. If you can keep your hand in place for:
• 2 seconds, the fire is hot (375 F or hotter).
• 3 seconds, the fire is medium-hot (350 F to 375 F).
• 4 seconds, the fire is medium (300 F to 350 F).
• 5 seconds, the fire is low (200 F to 300 F).
(Source: Kansas City Barbeque Society Cookbook)
There are obvious reasons for grilling out.
"The number one reason people like food cooked on the grill is because it tastes better," says Kansas City Barbeque Society executive director Carolyn Wells. "You know, duh."
But beyond the smoky flavor grilling lends to food, she says, people love it for the process.
"It's perfect for the Fourth of July, because we're really not in the barbecue business, we're in the Americana business … food, family, fun and friends," Wells says. "It is America's cuisine."
Grilling can be a break, she says. A chance to get outside. A cultural thing.
If you're cooking out next week for July Fourth, why stop with the usual hot dogs, burgers and steaks?
A hint of char adds an unexpected twist to all kinds of side dishes and desserts, from wedge salads to buttered slices of cake.
We're sharing a few of the Kansas City Barbeque Society's recipes, plus a few more from other sources, to give you hot-off-the-grill options for every side course.
GRILLED WATERMELON SALAD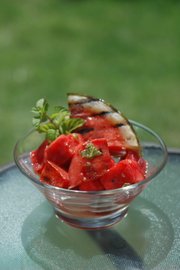 Servings: 4
1 small red or yellow watermelon (3 to 4 pounds), preferably seedless and not too ripe
¼ cup extra virgin olive oil, plus extra for brushing the melon
3 tablespoons fresh lime juice (about 2 limes)
Juice of 1 large naval orange
Pinch of sea or kosher salt, or more to taste
Pinch of cayenne pepper, or more to taste
¼ cup chopped fresh mint
½ cup crumbled feta cheese (optional)
Preheat a gas grill or build a charcoal fire for direct grilling.
Cut the watermelon in half lengthwise, then cut each half in half. Cut these quarters into 2-inch thick slices. Brush the slices lightly with olive oil and set aside until ready to grill.
Combine lime and orange juices. Taste; if it is too tart, add more orange juice. It should taste like a "sour" orange. Add the salt and cayenne and whisk continually while adding the oil in a thin stream. Whisk until thickened (emulsified). Taste and adjust the oil and salt to your liking. Add the mint and set aside.
Just before serving, place the oiled watermelon slices on a very clean cooking grate directly over the heat source. Grill until marked and just warmed through but still crunchy, 2 to 3 minutes per side. Let cool.
Cut off the rinds and discard. Cut the watermelon into chunks and place in a serving bowl. Pour the dressing over the top and toss gently. Top with the feta, if desired, and sprinkle with another pinch of cayenne.
(Recipe from Bob Blumer and Elizabeth Karmel's "Pizza on the Grill," Taunton, 2008, as listed at finecooking.com)
GRILLED PINEAPPLE SALSA
Grilling the pineapple in this recipe brings out the sweet flavors that nicely compliment the spicy pepper. Serve it over grilled chicken or fish, on top of a salad, or on its own as an appetizer.
Servings: 4
1 pineapple, small (about 2 pounds)
Extra-virgin olive oil, to taste
1 cup mango or papaya, diced
2 teaspoons Serrano chile, seeded and minced
1/3 cup red onion, diced
1 tablespoon honey
3 tablespoons fresh lime juice
1 teaspoon ground cumin
1/4 cup cilantro leaves, coarsely chopped
Salt and pepper, to taste
Hot sauce, to taste
Cut off the top of the pineapple and discard. Cut into half-inch thick slices, leaving the skin on. Place on a well-oiled grill over medium heat and cook until nicely brown on both sides, about 10 minutes. Remove the skin and "eyes" and cut the pineapple into a rough half-inch dice. Combine with the remaining ingredients and refrigerate for at least 1 hour to allow the flavors to develop. Season to taste.
(Recipe from dietitian Sarah-Jane Bedwell, self.com)
GRILLED BUTTER LETTUCE WITH BUTTERMILK-CHIVE DRESSING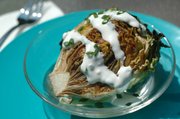 This is so much better than your average green salad. The grilled lettuce has crisp, caramelized edges offset by a cool, tangy dressing.
Servings: 8
1/2 cup buttermilk
1/4 cup crème fraîche
2 tablespoons mayonnaise
2 tablespoons thinly sliced fresh chives
1 tablespoons fresh lemon juice
Kosher salt
Vegetable oil for the grill
4 large heads butter lettuce, halved lengthwise
In a medium bowl, whisk the buttermilk, crème fraîche, mayonnaise, chives and lemon juice. Season to taste with salt. (The dressing may be made up to 1 day ahead and kept refrigerated.)
Prepare a gas or charcoal grill fire for direct cooking over medium-high heat. Lightly oil the grill grates.
Lightly season the lettuce with 1/4 teaspoon salt. Grill cut side down until wilted, lightly charred, and the cores are crisp-tender, 2 to 3 minutes.
Transfer the grilled lettuce to a serving platter and drizzle with the dressing (you won't need all the dressing; refrigerate leftovers for 2 to 3 days). Lightly sprinkle the lettuce with salt and serve.
(Recipe from finecooking.com)
GRILLED BBQ ASPARAGUS
This is great with steaks, hamburgers or pork chops.
Servings: 4
1 cup water
1 pound asparagus, trimmed
¼ cup barbecue sauce
Set up a grill for medium heat. Soak about 16 wooden skewers in cold water for at least 30 minutes. In a large skillet over medium-high heat, bring the water to a boil and add the asparagus. Cover and cook for 4 to 6 minutes, until almost tender; drain and pat dry. Cool slightly.
Thread several asparagus spears onto two parallel soaked wooden skewers. Repeat. Grill, uncovered, over medium heat for 2 minutes, turning once. Baste with barbecue sauce. Grill for 2 minutes longer, turning and basting once more.
(Recipe from the Kansas City Barbeque Society Cookbook, 25th Anniversary Edition, Andrews McMeel, 2010)
GRILLED EGGPLANT
Servings: 4
Start to finish: 20 minutes
1 eggplant
3 tablespoons olive oil
3 tablespoons balsamic vinegar
2 tablespoons minced garlic
Dash of oregano
Dash of thyme
Salt
Freshly ground black pepper
Mix all the ingredients together except the eggplant.
Cut the eggplant lengthwise into ½-inch thick slices. Brush the sliced eggplant on both sides with the marinade mixture. Let sit for 5 minutes.
Brush again with the mixture and place on a hot grill.
Grill for 7 minutes and flip. Grill for another 7 minutes and serve.
(Recipe from thehappyhousewife.com)
PARSLIED CORN IN THE HUSK
Servings: 8
8 ears of unhusked corn
½ cup butter or margarine, softened
¼ cup chopped fresh parsley
¼ cup minced fresh chives
¼ teaspoon garlic powder
Salt and pepper to taste
Pull corn husks back, leaving husks attached at base of cob; remove silk. Soak corn in enough water to cover in large bowl for 20 minutes; drain. Brush corn kernels with mixture of butter, parsley, chives, garlic powder, salt and pepper. Reposition husks. Wrap corn in foil; twist ends. Arrange corn on grill rack in covered grill. Cook with lid down over medium-hot coals for 30 minutes. Remove foil and pull husks down; ties husks at base of cob to form handle. May bake in 400 F oven for 25 minutes.
(Recipe from Kansas City Barbeque Society Cookbook, Kansas City Barbeque Society, 1996)
GRILLED ANGEL FOOD CAKE WITH FRUIT AND HOMEMADE CARAMEL SAUCE
Grilling cake isn't that common, but it is relatively easy. Just be careful not to burn it! This is a simple and unique dessert to serve your guests.
Servings: 10 to 12
1 store-bought or homemade angel food cake
Melted butter, for brushing
Fresh ripe fruit, such as pears, peaches, apples or peeled bananas
Caramel sauce (homemade, recipe follows, or store-bought), for topping
Cool Whip, for topping
Set up your grill to cook at medium-high heat.
Cut the cake into slices. Brush each side of each slice with melted butter, put them on the grill, and toast on each side. Place the fruit on the grill and cook for 2 to 3 minutes, until it has grill marks.
Place the cake on individual serving plates, top with fruit, drizzle with caramel sauce, and finish with a dollop of Cool Whip. Enjoy.
HOMEMADE CARAMEL SAUCE
Makes about 1 cup
1 cup sugar
6 tablespoons butter
½ cup heavy whipping cream
Heat the sugar in a heavy 2- or 3-quart saucepan over moderately high heat. As the sugar begins to melt, stir vigorously with a whisk or wooden spoon. As soon as the sugar comes to a boil, stop stirring.
As soon as all the sugar crystals have melted (the liquid sugar should be dark amber in color), immediately add the butter to the pan. Whisk until the butter has melted.
Once the butter has melted, take the pan off the heat. Count to three, then slowly add the cream to the pan and continue to whisk to incorporate. When you add the butter and the cream, the mixture will foam up considerably. This is why you must use a pan that has at least a 2-quart (preferably 3-quart) capacity.
Whisk until the caramel is smooth. Let it cool in the pan for a couple minutes and then pour it into a glass Mason jar and let sit to cool to room temperature.
You can store the sauce in the refrigerator for up to 2 weeks and warm it just before serving.
(Recipe from the Kansas City Barbeque Society Cookbook, 25th Anniversary Edition, Andrews McMeel, 2010)
GRILLED BANANA SPLIT
Servings: 6
6 underripe bananas
Two 1.55-ounce Hershey's chocolate bars, broken into small pieces
1 quart vanilla ice cream, or your favorite flavor
¼ cup chopped peanuts or pecans (optional)
Prepare a grill to cook at medium heat.
Using a sharp knife and leaving the peels intact, slit the bananas from end to end so the flat part is on the bottom. Go deep into the banana, but do not cut the bottom peeling, as this will be your bowl for the finished product. Force the slits wide open by pressing on the ends of the slit banana, and stuff it with the chocolate pieces. The amount you put into each banana is usually determined by the size of the banana.
Wrap the bananas in foil. Place them on the grill for about 10 minutes, or until the chocolate is melted. Open the foil and use this as a catchall to keep from making too big a mess. Add the vanilla ice cream and top it off with chopped nuts if desired.
(Recipe from the Kansas City Barbeque Society Cookbook, 25th Anniversary Edition, Andrews McMeel, 2010)
— Lawrence Journal-World features reporter Sara Shepherd can be reached at 785-832-7187. Follow her on Twitter at twitter.com/KCSSara.