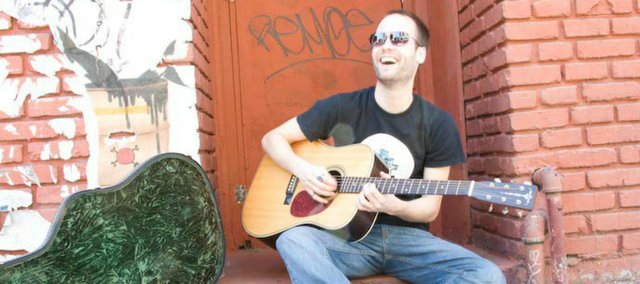 After finishing college, many graduates go into a safe, financially secure vocation, while others decide to take more of a risk – darting off to a far-flung locale to try their hands at somewhat more risky careers.
For Chris Allen, it was mainly the time he spent out of the classroom that influenced his career choice. After his 2006 graduation from Kansas University, Allen decided to pack up and move to Los Angeles to pursue his dream: playing and recording music. In 2011 the singer/songwriter/sound engineer released his first album, "Candour," and currently runs a studio called Studio-Rev.
"Some of it started in Rock Chalk Revue," Allen says of his motivation towards a musical career. "I did that and I directed my junior and senior year. We'd go into the studio and we'd have to work on the versions of the music, and that kind of helped. I won best original song for my senior year for the 'CinderEllie' show, so I was kind of like, 'Hey, there could be something to this.' I figured, why not? I sure as hell can't sit in a cubicle."
On "Candour," which Allen describes as "new classic rock," he channels Robert Plant to Jeff Buckley. Near the end of one song, "Lawrence Night," a combination of vocal harmonies and saxophone recalls the chaotic splendor of Pink Floyd's "Dark Side of the Moon."
Lawrence still looms large for Allen, personally and professionally. He says the city and KU's campus have stuck with him these past six years out on the West Coast. And it should: as Phog Allen's grandson, the Allen name is revered in Lawrence.
"I still write about KU and Lawrence – I enjoyed the hell out of KU," says Allen, a Mission Hills native. "I was just talking to a couple friends yesterday, reminiscing. I'll never forget. 'Lawrence Night' was just about senior year. I lived at the yellow house around the corner from The Hawk. I still kind of look at it like it was a dream. I remember one night just lying out on the balcony, listening to people leaving, I'm half drunk and listening to the rain fall and the night crowds."
Mark Allen, Chris' father, says he's always known his son was a talented musician. He says while he supported his Chris' decision to move to California, his first visit was eye-opening when he saw his son sleeping on an air mattress.
"When his mother and I went out there, it was depressing, quite frankly," Mark Allen says. "So we bought them sofas for their studio. But, he needed to just make this thing happen. Most musicians go through this phase. They suffer, poverty, the whole deal. You find out if you want it bad enough. You're not going to make it if you quit. That's true with anything you do."
Even with the low points in Allen's early days in Los Angeles, his dad was never nervous for his son, despite his being 1,500 miles away from home in a strange environment, trying to break into a difficult career.
"This may be naïve on my part, but I think it's an adventure, for sure," Mark Allen says. "There's no reward without some risk. That's what he loved to do, and I think after he stumbled around for the first six months, he worked out how to be a sound engineer. Which, I kind of insisted on. I mean, you've got to have some skillset. It's one thing to be a musician, but there's only about 100,000 of those guys out there."
Allen says he enjoys recording other people's music just as much as he does recording and performing his own, though he gets different types of satisfaction out of each activity.
"You put on a different hat when you're (recording others) as opposed to recording your scratch vocals and scratch guitars while someone is recording you," he says. "Recording my own stuff is best when it's just me in the studio. I'll come into the control room, hit record and then run back out, close the doors and track vocals or whatever. It takes a lot more mental focus and you've really got to be on your game.
Anthony Mancini, who plays lead guitar on "Candour," says Chris brings a unique skillset to both the stage and the recording studio.
"Chris is incredibly insightful," Mancini says. "When he gets a song put in front of him, he gets a lot of really cool ideas, especially on the vocal side. You can tell he give a lot of effort to be in the studio as long as he was (for "Candour"). Sitting with him and then kind of bouncing a song back between the two of us – he always comes up with interesting ideas and changes. He's a pretty good songwriter, for sure.
Mancini says Allen's ability to know exactly what he wanted on the album, mixed with his open, accepting demeanor, were integral to the creative process for "Candour."
"That album was made without a band, there were many musicians. It wasn't just like a band going into a studio situation with the songs already practiced and rehearsed. It was made over a long period of time with a collection of studio musicians," Manicini says.
"What was able to make it work was that Chris had a pretty strong vision of what he wanted," he says. "At the same time, Chris is incredibly patient – he knows what he wants, but he knows the individuals he's bringing in are going to have their own styles. He specifically chose people for the songs based on their styles. So it's kind of like cooking with an extensive recipe."
Allen says working on "Candour" was rewarding for him, both as a musician and a studio engineer. He says he learned a lot about both music and himself in the process.
"There's just something about the process of just doing it," he says. "Recording and finding out different miking techniques and know what settings on the processor are better for this microphone or that one. It's fun just discovering yourself. Going through my album was a great learning experience for that and I'll applied it to other bands."

More like this story on Lawrence.com