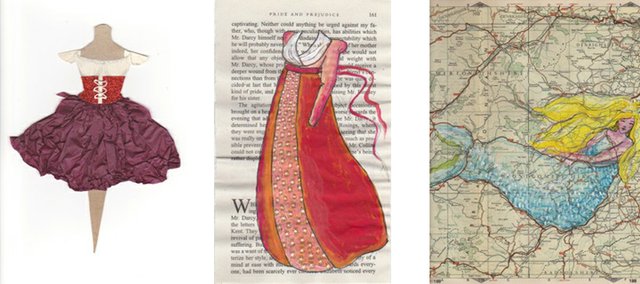 If you have doubts about the vibrancy of Lawrence's arts community, look no further than two individuals who are a force behind this month's Final Fridays.
At first glance it would appear that Adam Smith and Liza MacKinnon have little in common. He's a former bike mechanic turned professional framer, and she's a geography major who works part time at the library. But talk to them and you soon learn that both came to Lawrence a relatively short time ago, (Smith has been here six years, MacKinnon for five); both came from Washington State; both are interested in helping others with their art; but perhaps most importantly, both epitomize the artistic energy that has gained momentum in Lawrence in recent years.
Smith says that it was a fluke he landed in Lawrence. "Winter was coming on and it was the end of the bike season, so I just left."
He arrived in Lawrence and almost immediately became involved in the arts scene. He bought a framing business and opened a gallery, the Invisible Hand Gallery, 801 ½ Mass. While Smith is also an artist, a photographer, he doesn't feel his purpose right now is to exhibit his own works. Instead, he wants "to bring art to Lawrence and help other artists showcase their work professionally and affordably."
As a founding board member of the Final Fridays, he's been fulfilling his mission for the past two and a half years by showcasing various artists in his gallery. But this is the last month he will be in his space on Massachusetts, he is moving his Invisible Hand Gallery to Lawrence's new arts district at 846 Pa.
"It is going to be wonderful!" says Smith, "What better gallery space is there than an old warehouse that has been refurbished?"
True to his mission, he has already booked his new space through 2012 with local, regional and national artists.
To help him say goodbye to the space that has been his home for over two years, some 21 artists will be exhibiting works in his gallery above Esquina Restaurant.
Another example of Lawrence's flourishing art community is Liza MacKinnon, one of four featured artists showing at the library this month. In the time she has lived here she has become an integral part of the arts scene having participated in the Bizarre Bazaar, Art in the Park, the Holiday Art Fair and the annual Art Walk. She works in various media including printmaking, textiles and ceramics, and her most recent works focus on the female form.
"I love to play with the silhouette," she says. "(Women) have had all these different forms throughout history, with padding and corsets accentuating different parts. It's almost like we are all of these different species!"
This year she embarked on a "Dress a Day" challenge in which she creates a new work every day. She will be half way through her 366 (it is Leap Year, after all) challenge at the end of June. What intrigues her most about the project is where the project has taken her.
"I enjoy looking at the themes I have come up with and growing as an artist," she says.
MacKinnon is not only interested in growing as an artist herself, she, like Smith, is interested in helping others express themselves artistically. In addition to teaching classes at the Arts Center, she hosts a class, "Tending to the Pilot Light," in her home studio. The class is geared for people "who don't make the time or space for art."
"It happens all the time, people come to my class and they go crazy with the project, adding everything they possibly can. They want it all!" she says. "They've been thirsty for a long, long time."
MacKinnon works to tap into the creative current that, she believes, flows through everyone. "When you can unlock creativity, people are happier.
"If you call me an artist then you are separating yourself from me," she says. "But we are all the same. We all have compassion and creativity. We are all creatures who want to be loved and needed so we are the same in that way."