Originally published June 29, 2012 at 11:04 p.m., updated June 29, 2012 at 11:04 p.m.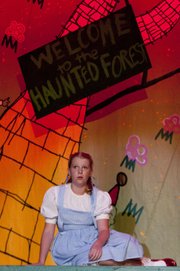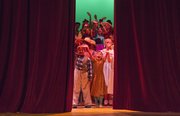 Approximately 100 of Lawrence's youngest aspiring actors shimmy and twirl their way through a complicated dance number during a rehearsal for the Lawrence Arts Center's latest Summer Youth Theater production, "The Wizard of Oz."
Minutes later, artistic director Ric Averill sits down at a baby grand piano to explain to some virtuosi-in-training why the song "The Merry Old Land of Oz" is sung in the E flat key.
"The key of E flat is very royal and energetic, which is the same key that Beethoven used to write his 'The Emperor's Symphony,'" he says. "That's what different keys do — they match the drama of the music with the drama of the lyrics."
Forty feet away, a choreographer works to perfect a dance routine while preteen girls in flip-flops and cutoff shorts take turns braiding each other's hair between scenes.
And it's not even snack time yet.
The arts center's Summer Youth Theater program, or SYT, draws in about 300 third- through 12th-graders annually, says Averill, who has been coordinating SYT for nearly two decades.

Regardless of their level of theater experience, every youth who auditions for an SYT production gets cast, he says.
"You can have two students come in with very diverse levels of experience but will still find themselves moving forward — we try to make sure that there is a curricular growth for all students as they go through the program," he says. "We really believe that you learn by doing the best show possible."
Participants also get the chance to make new friends outside their regular social circles.
"There are a lot more nice people out there than I originally thought there were," says first-year SYT participant Veda Cobb, 12. "I grew up in a neighborhood full of old people where my best friend was an 80-year-old — which I liked because they made me cookies — but theater can help kids interact with other kids who have the same interests."
Fifteen-year-old Kayla Clark agrees and says those involved in theater are very accepting of others.
When the Free State High School sophomore isn't acting or doing technical work for school plays, Kayla says she likes to volunteer at Theater Lawrence's weeklong youth theater camp "School's Out, Theater's In."
"I see kids come in here crying because they don't want leave their moms, but by the end of the week they become different people," she says. "It's fun to see them come out of their shells."
Hailey Gillespie, youth education program director at Theatre Lawrence, says getting kids of all ages to succeed in theater can be a challenge.
"Grade-school-aged kids are more hesitant to open up because they're afraid of what other people think, whereas kids in high school are hesitant because they're not sure of their ability to do it. A lot of kids are scared to try something new when they're not sure what the result is going to be," she says. "But once they do open up, they realize that this is the place to experiment."
Gillespie says she enjoys working with youth because of their energy and honesty.
"I'm constantly surprised at how imaginative they can be," she says. "No matter what I bring to the table, they always have something that goes above and beyond what I hadn't even thought of."
Kids who participate in theater gain confidence as well as learn how to problem-solve and work as a team, Gillespie says.
Eleven-year-old Theatre Lawrence veteran Kassidie Womack says theater helped bring out her inner self.
"My mom thought I would be a good actor because I'm very bold with my suggestions and ways of doing things," she says. "I don't fake a certain attitude when I'm acting — I use my own attitude and personality to help make the play better."
Lexi Kreigh, 13, who played the Scarecrow in "The Wizard of Oz," says although the most nerve-wracking part of the performance process is auditioning, she occasionally gets stage fright if she's playing a large role.
"It's a little stressful at times knowing that you're so close to opening night and you don't have everything done or memorized," Lexi says. "But it's fun when you're on stage entertaining everyone and you just know that you worked hard to put on a good show."

Although she gets nervous for the younger kids when she's working backstage during the theater camps, Kayla says that she rarely gets stage fright herself.
"Even if there are just two people in the theater," she says, "there's just an awesome thrill that comes from performing."
People make mistakes and things don't always turn out as planned — in life as well as on the stage — but the show always goes on, Gillespie says.
"There's never a perfect show," she says, "but at the end when you take your bow, what's important is the sense of accomplishment and the joy you feel for all the hard work you've done."