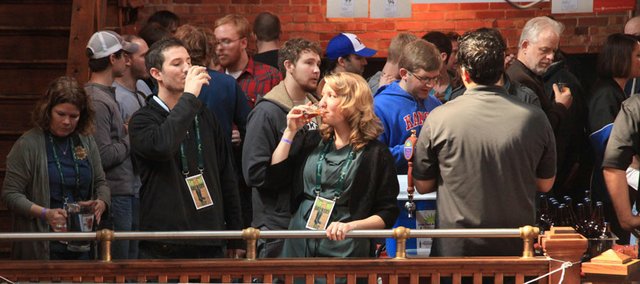 Wearing a gray wizard hat and clutching a modest sipping glass, Jeff Gill wedged his way through the crush of people and shuffled up to LB Brewing Co.'s beer booth to say hello to the vendors. Written in bold letters on the front of Gill's sipping glass was the name of his own brewery: Tallgrass Brewing Co., of Manhattan.
Gill was one among about 30 regional and national beer vendors present at Lawrence's inaugural Kansas Craft Brewers Exposition, held Saturday at Abe and Jake's Landing, 8 E. Sixth St. Though the first of its kind in Lawrence, the event might become a local staple.
"It's a great event," Gill said. "It's great for craft beer in Kansas, ... and it's great when it's brewery-led because we all know each other and we're all friends. We love it when festivals are executed by breweries. It makes it more fun for us to come."
The Kansas Craft Brewers Guild and Downtown Lawrence Inc. collaborated on the event. Tickets were $30 and sold out within 10 days of going on sale. Between 1 p.m. and 5 p.m. Saturday, about 720 people milled inside the venue.
Rennie Moore, of Leavenworth, bobbed her head to the Red Hot Chili Peppers' "Love Rollercoaster" and chatted with the people next to her about how much fun she was having, even though she was the designated driver among her group of friends. Though beer was the main focal point at the expo, Moore said she was still able to enjoy herself, largely because of the fun atmosphere, loud music and camaraderie. Moore had only one complaint: "So far I haven't found anything to drink other than beer."
Craig Goscha, of Lawrence, went to the event with some golfing buddies and his brother in law. A fan of IPAs, Goscha gravitated to the Free State and Tallgrass booths.
"I think it's great for Lawrence, and it's good for Free State," Goscha said. "Ticket prices are very reasonable. Plus, they didn't let it get too crowded where you can't move."
Chuck Magerl, owner of Free State Brewing Co., was pleased with the turnout.
"There are people I've known in Lawrence for 30 years, and other people I've never seen before so that's kind of a fun combination," Magerl said. "If we find that this plays out well, we're hoping that this becomes a regular event for downtown Lawrence."